Students show off their great dancing skills
C4 dance show always attracts big crowds. It's a chance for Canterbury Christ Church University students to show off their amazing dancing skills and this year didn't fail to impress.
C4 dance took to social media after the show to thank everyone for coming to all their events over the weekend.
8:08pm – The dancers come out to bow recieving a standing ovation from the crowd.
8:02pm – Advanced Hip Hop – This was a great way to end the show, the crowd were on their feet dancing along. One dancer even wore a horse face mask.
7:57pm Advanced Contemporary – A very professional performance
7:53pm – Five Fold – A very professional looking performance
7:50pm – Advanced Jazz a very energetic dance routine, it definitely put a smile on the audience faces.
7:47pm Novice Jazz – a more untraditional take to Jazz.
7:44pm – Stitches – A lovely Duet pleases the crowd
7:42pm – Ballet Pointework – Time to tune it down a little bit. A short one but the dance was full of energy.
7:38pm – Afro styles – This has got the room buzzing with its upbeat music.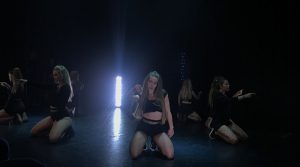 7:33pm – Commercial hip hop. A real crowd pleaser and a well choreographed routine.
7:20pm – Ten minute Break
7:15pm – Tap, the dance was a modern take on original tap with a very saucy routine.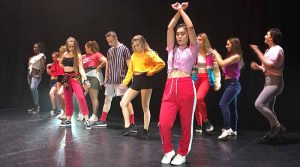 7:12 pm – Novice Hip Hop this has got the crowd involved.
7:05pm – "Two shades"  performed by Sybille Danouma and Dimeji Niran a much more up beat dance these guys have good rhythm for sure.
7:00pm – Time to kick things up a notch with Latin, this has definitely got the crowd going. A crowd favourite for sure.
7:00pm – Time for a slower routine now Amy Germain, delivers a stunning a short solo performance.
6:55pm – Fixed! The show goes on. The dancers showed their professionalism and delivered a great routine.
6:53pm – Novice Contemporary. A technical problem has delayed the start to this routine.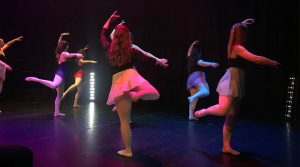 6:49pm – Ballet routine – Dancer Lydia Rooney slips during routine and severely sprains her ankle, she has now been ruled out of all her remaining dances for the evening.
6:48pm –  Dance President Cherelle Goode addresses the audience, she asks what everyone is most looking forward too she receives a mixture of responses.
6:46pm – First dance of the night is the committee dance. A very good way to start the show promising signs for the rest of the evening with a big variety of every dance style.
6:37 – Delayed start to the event as people are still coming in.
6:10pm – The audience are all finding their seats.