'There's a whole generation of vegans who want something greasy and deep fried'
The monument's menu doesn't look particularly unusual. A quick glance reveals your usual pub-grub range: cheese sandwiches, a wide selection of beefy-sounding burgers, and even a doner kebab.
The catch? It's all vegan.
Tom Fox runs the pub along with his wife, Jo, and tells me with a smile that the modern-day vegan wants nothing more than a hearty, deep-fried meal. "There's this big misconception that veganism, and healthy living are inextricably linked" he says. "There a whole generation of vegans coming out now who want something greasy and deep fried, who are looking for vegan junk food or vegan comfort food – which reminds them of pre-vegan days.
"We do soy-based protein burgers, they're heavily seasoned, they're juicy, they're packed full of protein. We've had groups come in who didn't even know the place was vegan. Good food is good food."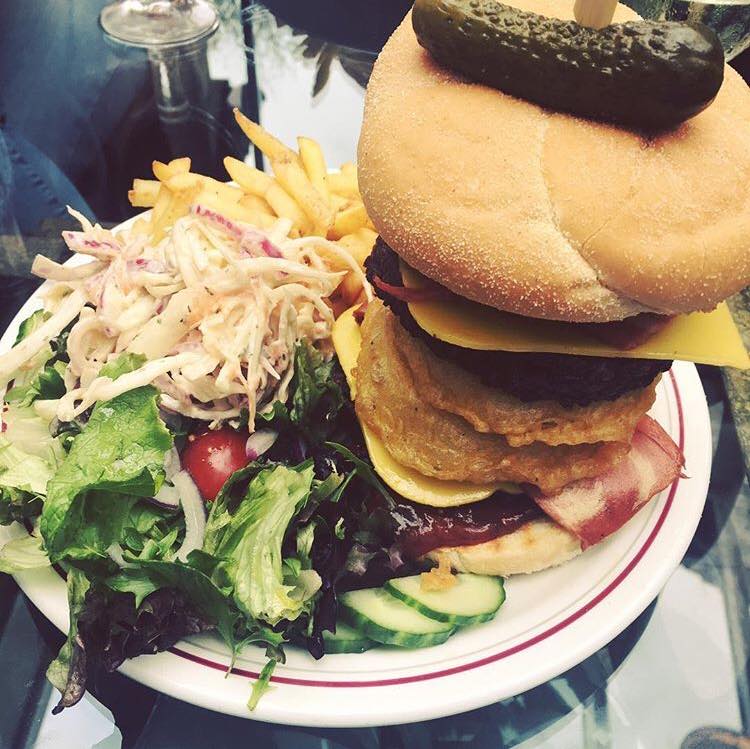 The rise in popularity of veganism has not gone unnoticed by the catering industry. The meat-free food industry is currently worth around £500M, according to market researchers Mintel. And this figure has led to chain restaurants pricking up their ears. Pizza Hut and Zizza now offer a range of dairy-free pizzas, and Guinness have stopped using fish bladders in its brewing process after two and a half centuries.
But Tom says he is not worried about the contest. "A lot of people said to us, aren't you worried about the competition? No, it means I get to go eat somewhere! It means people are going to go to other places, have some really nice vegan food, why don't we try that vegan pub that we've never been to?" he says.
"I think because it is so readily available in so many high street outlets now, it's so easy to go in and go 'you know what, I'm not missing out. I can still go out with my friends', and it's very much a thing now that people aren't finding themselves stuck with just a plate of chips, which used to be the vegan staple.
"There's a lot of mainstream restaurants that are jumping on the bandwagon to make a bit of money, but it's better than nothing, and at least people are seeing there's a trend. While some people take offense to that but if someone goes in to McDonalds one day, and says they're going to have a vegan burger instead of a meat meal, that's a good thing."
Shoppers of Canterbury high-street gave their opinions to our reporter on all things vegan.
There is no single reason behind the dramatic increase in mainstream veganism. BBC analysts report that young women are one of the driving forces behind its popularity, and according to Mintel, there were twice as many vegan women than there are men when they last conducted research in 2016. But according to Alissa James, who runs the vegan society at Canterbury Christ Church University, one suggested reason behind the rise in veganism stands out from the rest: "I think it's because of social media. Social media is a big platform for any kind of subject or activist event.
"If something gets put on Facebook, it can get shared thousands of times and never leave. When people find out what actually happens, their disgusted. I used to go to zoos all the time when I was young and now, I'm like I hate zoos, I don't like them same with. Sea world and things, I think they're disgusting now. It was literally changing my whole view from how I was raised."
Alissa also believes that militant vegans, while often the most outspoken, make up for but a minority of vegans, and can potentially make people more likely to shun the idea of ditching meat and dairy.
"There are some people that are a bit militant about small things but I'm not one of those," she says. "The people are so supportive -you feel like you're not alone.  Yes. I am an activist myself, but the way I do it is in an educational way, and if your fine with that, then ok."
COWSPIRACY: The Sustainability Secret (http://cowspiracy.com) is a groundbreaking feature-length environmental documentary following an intrepid filmmaker as he uncovers the most destructive industry facing the planet today, and investigates why the world's leading environmental organizations are too afraid to talk about it.
Cowspiracy – One of the many pro-vegan films now available on popular streaming sites
Tom also agrees that rather than forcing people to agree with his views, it is better to provide easy access to information on the harms of farming, and let people make up their own minds.
"I think people are starting to see it for themselves, and make their own decisions," he says. "It's not that it's being forced down your throats, but there is a lot more stuff out there now. I think its opening people's eyes a bit.
I ask him why should people come to his restaurant, and he tells me with look of pride: "Leave your preconceptions at the door, and come and enjoy good food for what it is – good food".