Locals Bid To Save Tonbridge River Lawn
Funds are being raised to stop building work on River Lawn Green, Tonbridge.
A protesting group on Facebook, Keep River Lawn Green (KRLG), have organised events on the River Lawn to raise funds to buy the land to prevent developers buying the land.
Up to £50,000 is needed to be made but KRGL are hoping for at least £5,000 to be made in donations.
This December a Christmas carol service was held to raise money and a Halloween event in October.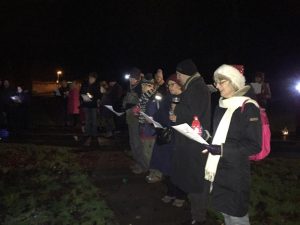 Tonbridge and Malling Borough Council proposed the development of a medical centre on the greenland.
KRLG organiser Mark Hood said: "We are trying to prevent our council from carrying out civil vandalism to our town centre.
"We are attempting to stop it financially self harming to the detriment of our children and grandchildren.
"We live in a town we love and care for and we are desperate to preserve and improve it for generations to come."
The Green was bought by Tonbridge Urban District Council in honour of the survivors of the cholera epidemic and the Great War in the 1920's.
The Riverside Walk at the Green was originally designed to give veterans employment following their service but now it is up for sale.
Council documents propose the plans for the land.  Chief executive Julie Beilby said:
"Notice is hereby given that Tonbridge and Malling Borough Council intends to dispose of an area of land (432m2) at River Lawn Road Tonbridge, to facilitate the development of a medical centre, which consists of part of an open space."