The Problem with Kentish Football
3rd May 2022
Football and England haven't always got on well with one another. The beautiful game hasn't always been beautiful to watch. England's painful exit from the 2014 World Cup and the brutal denial of the crown in the 2020 Euros are recent examples of the heartache suffered by English Football fans.
But the world is now facing a new breed of English football. For the past five seasons Manchester City have ruled domestically and have dominated the Premier League, Chelsea conquered Europe and took home the Club World Cup and Liverpool are chasing the long thought impossible 'Quadruple'. English football is now both a privilege and pleasure to watch.
Performance isn't everything though. Just last year, Christiano Ronaldo re-signed for Manchester United and Newcastle United became the richest football club on the planet, keeping the Premier League as the most popular football league in the world.
However, of all the 20 Premier Leagues none of these are based in Kent. In fact, only one club in the top 92 in England is from Kent, Gillingham F.C., who after a string of poor results were relegated from League One.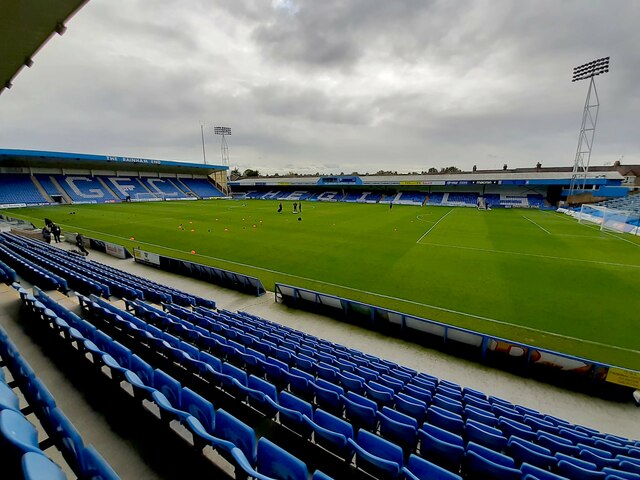 To look at the problems surrounding Kentish Football, there is little need to look any further than Gillingham. The team, known by many as 'The Gills', were formed as New Brompton FC in 1893 and are one of the oldest clubs in Kent. The club have had spells in the Second Division/Championship but have been slipping down the pecking order for a few years and ultimately have been met with relegation.
The Gills have a loyal following but frustration with the club has led to a cycle of disappointment. Lack of funding has led to poor recruitment, which has led to rising ticket prices. These higher ticket prices have not led to an increase in wealth and have led to a decrease in fan attendance or as one fan said to me "who wants to turn up in the rain and be met with shoddy football?"

Paul Scally, the club chairman since 1995, has been a long time supporter of a new stadium stating in 2017 that the club would need a new stadium if it hoped to ever compete in the Premier League.

So long as I have an ounce of energy left in my body I will give this club the best and only chance of achieving its potential in Medway, and thus putting itself in a position in a new arena to chase Premier League glory for the benefit of everyone in Medway for the next 100 years and more. It's not impossible – in fact it's getting more realistic by the day; just look at Brighton & Hove Albion and Bournemouth as case studies of how fortunes can be transformed

—Paul Scally 2017
To further investigate Gillingham's problems, I spoke to Luke Caldwell, senior multimedia sport journalist for the KM group who provided some more insight.
"It's comes down to lack of investment. The team is at the mercy of money. Look back to 2008 with Manchester City, they were floundering [until they were bought] and now with investment into management, facilities and players they are dominant,
"With [Paul] Scally in place they have a man who kept the team in place where they are between the middle of League One and the top of League Two but Gills probably won't progress further than there.
"The division in English football is just massive. The gap between the Premier League and the Championship is obviously huge but even between the top of League One and the bottom is big, Gills were relegated with forty points which was unheard of a few years ago."

Like with most clubs, when the players are performing and the manager isn't the correct fit. Fans turn on their owners. Manchester United have been protesting the ownership of the club by the Glazer family as they have faced humiliation this season and nearby rivals Everton have been protesting the ownership of their club as they face relegation themselves.
Gillingham is no different. Since the threat of relegation this season became clear, fans' anger at owner and chairman Paul Scally grew and grew. The peak of this anger was clear at the Gills' final game of the season where a plane pulling an anti-Scally banner flew across the stadium.
Neil Harris, the manager of the Gills, has decided to stand by Mr. Scally.
It is fine people saying 'we want Paul to leave' and stuff and someone else to come in but there has to be people willing to come in and support Paul, if not he will just run the football club the best way that he can. He won't threaten the football club, he won't take huge debt, I support him on that, I don't want the club to take huge debt. If I didn't care about the club I would do what other managers do, I would get an investor to borrow loads of millions then leave and see it all go pear-shaped. I am not prepared to do that. The chairman wants to support, he is a really good bloke, he is a Gillingham fan.

—Neil Harris (speaking to Kent Online 2022)
Luke Caldwell also outlined a similar thoughts in respect to the future of Mr. Scally.
"There is a fear of the wrong kind of investment, that someone can come in and pump in money to the team and then it goes bust. No one wants that for Gillingham. Especially the fans,"
I also spoke to a Gillingham FC staff member, who did not want to be identified with his thoughts on Mr. Scally.
Everyone is fed up with him (Mr. Scally) he talks a good game about what he wants to with the club and talks about getting to the Prem (Premier League) but we won't unless he listens to the fans and recruits better

—Gillingham staff member
The fans are the heart of Gillingham, and their frustration is understandable and not unwarranted. Not only has the expectations not been met but the quality of football is not worth the heartache.
At the tip of the iceberg is the match day experience, as Luke Caldwell notes, Gillingham does very little.
"Charlton, Bristol and Ipswich all get the fans involved with the match day stuff. In the lower leagues, you can grab a drink and chill with your mates. Ipswich also get the academy players and the kids on to play on the pitch before kick off,
"It's the little things that take it from going because you feel you should as a fan, to instead going to have a good day out that everyone can enjoy.
"If your local club doesn't make it an experience you will do what most do these days, use the quick train, go and watch the London clubs like West Ham and have a day out in London every week.
"That's the reality for most Kent football fans, there is a mass exodus every week because it's a better experience, better football and better value for money."
As Luke mentioned that is the crux of the problem with Kent Football, not just Gillingham. Given a choice between supporting your local club because they are your local club and supporting a club that you can still access easily, have a day out that's worth the time and money and not have the frustrations that plague the fans of smaller clubs, then the choice is clear.
However, local clubs will always need local fans to keep them going, that is the nature of football, it is a community. Whether it is the global support of teams like Barcelona, Real Madrid, Liverpool and Manchester United, or the little teams like Norwich, Sunderland and Gillingham, all clubs need their fans.
Clubs have come and gone but fans will always remain, and whilst Kent football has its problems, of which Gillingham is only an example, so long there football fans in Kent, there will be football clubs, successful or not.