Mae West: Why her 1927 arrest wouldn't have happened today
19th April 2021
Mae West was arrested 94 years ago today, because a play she wrote (and starred in) in 1926 was 'too risqué'.
Who was she?
Mae West (1893-1980) was a New York actress, comedian and singer, as well as playwright and screenwriter. She was seen as a sex symbol throughout her career and was heavily censored due to the conservative views of her time. Despite falling victim to censorship so often in her career, she was still incredibly successful and managed to use it to her advantage. She famously said, "I made a fortune out of it" – a lot of her comedy was based on making fun of traditional stereotypes.
What happened?
In the year that saw the birth of Queen Elizabeth II, a play written by 'Jane Mast' (the pen name Mae used) premiered on Broadway. It was a commercial success, but due to its obscene nature it was shut down by the NYPD. Mae was arrested on 19th April 1927 and spent over a week in prison, just for her connection to the play. She realised how big of a deal this would be, saying to a reporter at the time, "I expect this will be the making of me."
What was the play that got her arrested?
The play was called Sex – as you can imagine, its content is fairly sexual in nature. It contains adult language and contains themes like sex work, sexual assault, extortion and suicide. The main character, Margy LaMont (played by Mae herself), is a sex worker wanting a better life. At the beginning of the play, Margy's employer Rocky offers her to a man as a method of payment. She refuses this, and tries to improve her life by marrying a successful man. She has to decide between two of them - one being someone who knows nothing about her but wants to marry her in a well-intentioned act of ownership, and the other is a long-term client who knows who she really is and loves her for it. The two men represent a choice - an escape from her current life, or accepting her identity.
Ashley Jacobson, artistic director and co-founder of feminist theatre group The Dirty Blondes*, said to The Guardian that Sex is about "how she can claim power within the confines of being a woman and a sex worker in the 1920s". She effectively summarised the play when she said, "In the play, every woman is reduced down, as though all they offer is sex – that's why it's called Sex."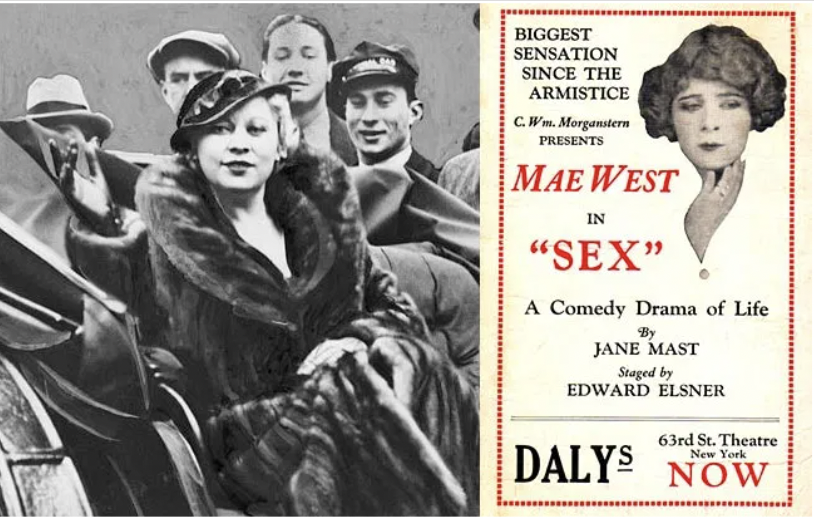 The New York Times called it a "crude and inept play" and said it was "cheaply produced and poorly acted", and Billboard said it was "the cheapest most vulgar low show to have dared to open in New York [in 1926]". 375 Broadway performances went ahead, to a total audience of over 325,000, until February 1927 when the NYPD became involved. Mae West and 20 others were charged with obscenity, and after a very public trial, Mae was convicted of "corrupting the morals of youth and others". She was sentenced to 10 days in a workhouse on Welfare Island (now called Roosevelt Island) and given a $500 fine. In true Mae West style, she travelled to the workhouse in a limousine, while wearing silk underwear and surrounded by roses.
What else happened to her?
Mae West's entire career was constantly blocked by censorship. She referred to her next written work as another of her 'comedy-dramas of life'. It was called The Drag and was a play about homosexuality. After trying to open the play in other states, Mae publicly announced it would be performed in New York. But it never made it to opening night, as the New York Society for the Suppression of Vice banned all of Mae's attempts. Mae said that the "city fathers" of New York "were not equipped to handle the commotion it would cause". She was an outward supporter of early gay rights from the 1920s onwards, and spoke out against police brutality towards gay men.
Mae worked her way around some of the censorship in her film career, as after the success of Diamond Lil, one of her most iconic works, she made a deal with Paramount Pictures (the company she signed a contract with) which meant that she could write her future characters' lines. Not only that, but she had her own production unit and could decide which actors would play her characters' love interests. This kind of creative freedom was largely unheard of - particularly for a woman.
Mae West died a few months after suffering a stroke in 1980 at the age of 87, after a long life of fighting the patriarchy and breaking societal rules. Her legacy paved the way for some major changes in film and television. Although we haven't jumped the final hurdle, most creatives are free to make the choices they want without being blocked by those higher up.
She has a star on the Hollywood Walk of Fame as a result of her contribution to film, and because of her dedication to theatre she is an inductee of the American Theater Hall of Fame.
What if the play was written today?
In today's world, surrounded by productions such as Chicago, Hair, The Full Monty and The Rocky Horror Show, Mae's play would never have warranted an arrest, as we are generally much less conservative and strait-laced almost a century later.
Even as little as 30 years later, it may have been perfectly fine to perform. Fellow sex symbol Marilyn Monroe's Some Like It Hot (1959) is considered to be one of the greatest films of all time, which is arguably just as scandalous as Sex.
We know for a fact that Mae could have written Sex with no issues nearly a century later, as it has actually been recreated on multiple occasions over the last decade. *The Dirty Blondes, a New York theatre group, performed staged readings of Sex in 2016, bringing the play back to the city it was once banned from.
It was also recreated in Canada in 2019 for the Shaw Festival. The play was criticised for some of its scenes and jokes that had been over-done on stage over the years, but the fact that they originally came from a 1920s play clearly proves that Mae was years ahead of her time.
Another theatre company, Play Your Part, recreated Sex shortly after this. In December last year, this Seattle-based nonprofit company put on live productions of the play while giving their virtual audience access to causes that fight inequality and violence, including support for sex workers and sexual assault survivors. This reproduction focused on showing that sex workers are people too, and should be supported as they make their own life choices.


In short, Mae West was an acting powerhouse and a literary force of nature. She fought against the constraints she was faced with and made some incredible contributions to her industry, and was punished for it on more than one occasion. But, as a result of the changes to the rules of film and theatre that she helped make, she wouldn't have had any trouble performing her work in the 21st century. Writing and starring in a sexually liberated play wouldn't warrant an arrest, which is just one of the marks she left on the world.