The healing power of art
22nd March 2021
Art is often perceived as something exclusive to talented creators and not something that the everyday public can enjoy and benefit from.
Jemma Channing - Health and Well-Being coordinator at The Beaney House of Arts and Knowledge in Canterbury, Kent - says: "[Art] is also very good for building people's confidence and self-esteem, because even if you're not the most amazing artist in the world you can make something, and it doesn't have to be perfect, it's about you enjoying that process."
"People's mood is improved, their anxieties lessen, they feel happier, which has an impact on the body, it's good for all round health."

—Jemma Channing
Art has always been present in society throughout its development, with the use of charms, paintings, or songs to express different ideas and messages. It wasn't until the 1940s when someone took it a step further and combined it with psychology. That was British artist Adrian Hill, who discovered the many benefits art had on patients with tuberculosis.
Nevertheless, it wasn't until the 20th century when his discovery began to be recognised as an official therapy, being placed on the same level as the 'normal' therapy everyone is familiar with.
The way art therapy differs from other kind is how it works, as instead of using words it uses an abstract expression, creating an 'object' that represents something trapped in the patient's subconscious. Something that the person may struggle to bring up in words.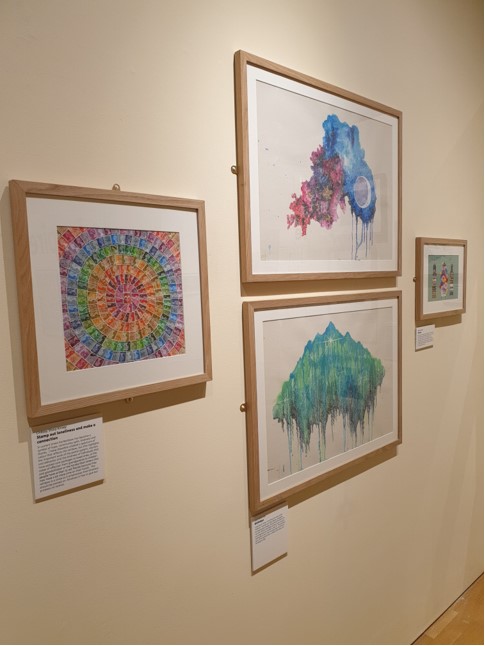 Samuel Farleigh - Art psychotherapist based in London - explains what to expect when it comes to an art therapy session: "We use a range of art materials: Dry materials, such as pencils; fluid, such as pen, pastels or watercolours; or more solid objects, like clay. The person can explore all of them and express what they want with each of them, it allows them to unlock things."
He explains how art therapy can help patients create "new patterns" in their brain that will progressively allow them to think differently about themselves and the world. As Jemma Channing said, he agrees that art makes people feel more positive about themselves, because they create something new with their own hands. However, he stresses the importance of being guided by a professional that is aware of how to effectively use art as a tool to improve mental health, "not just someone painting on their own".
"I saw art as an opportunity to do good and help others"

—Samuel Farleigh
The COVID-19 pandemic has brought many changes with it and people have suffered the consequences on their mental health. Therefore, It is more important than ever for society to stop perceiving mental health struggles as a taboo, and start addressing them as often as physical health is addressed. Mental health is often a 'hidden truth' that many people argue needs more support.
The pandemic has drastically transformed people's livelihoods, impacting their social life, jobs, income and isolating them from the world. The difficulty to adapt for many has spiked mental health figures at a time when finding help is harder than ever, due to the social distancing measures and the collapse of hospitals.
As a result, many psychologists and organisations that work with art therapy have decided to take action and help people as much as possible with their mental health during these trying times.
One of them is The Beaney Museum in Canterbury, which counts with a variety of workshops that use art to help people deal with their mental health. However, the pandemic forced them to close the museum and move the workshops online.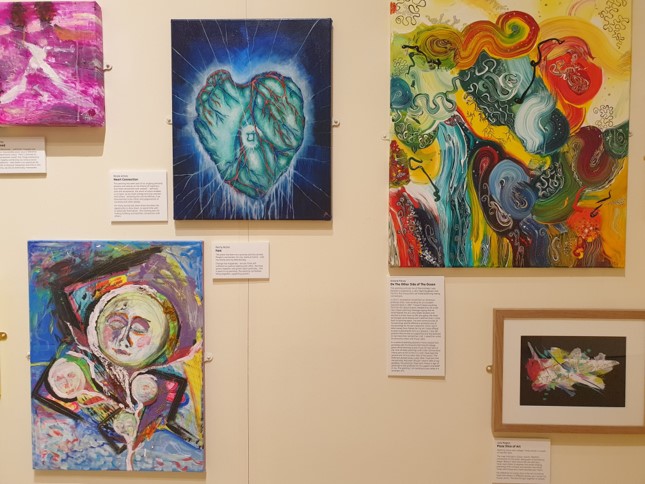 Jemma Channing says: "When lockdown happened, we didn't know how long we were gonna be in lockdown but we knew it was a very kind of unusual time, and as a museum, we like to kind of collect information about important times in history, which it felt like this was, and we also wanted to carry on supporting people's health and wellbeing."
She explains that they would call regularly to check on people that didn't have access to the internet, and have a conversation with them to support them in their struggle.
They even created an exhibition called 'Museum of you' which was composed of people's art during the pandemic.
"We used six ways to well-being, we came up with a newsletter every two weeks that had activities that people could do at home, to support their well-being. But also, we wanted people to create artwork, either paintings or poems or sculpture responding to those things." The purpose, as she explained, was for people to be able to escape reality for a while with the help of art.
Samuel Farleigh also moved his sessions online, and a few on them were carried in person by social distancing. He created free group sessions over zoom, which he admits was an "experiment" whose outcome couldn't be predicted.
"Using art therapy online's not really been done before, and it was a trial and error process. To create a space that would help and be safe, and also using art while online is not something that really has much literature or any kind of research on."
Some people that practiced art individually, decided to take it to the next level and share their talent with others, as is the case with Nisi Grint, a Professional and Creative writing student at Canterbury Christ Church University in Canterbury, Kent.
Nisi explains cheerfully over a zoom call how she's always been a creative kid. She shares the story of how she started painting when she was four using her mother's art supplies.
When the pandemic struck, she saw the mental health statistics and felt that she wanted to do something about it with the abilities she knew she had. That's how 'The UK Recovery project' came to life.
She created a website and weekly online workshops that involve creative expression to help people release their emotions, and also enjoy the feeling of being part of a community, even if it's through a computer screen.
"I just knew that I wanted to help people and we want to do what we do because we love it."

—Nisi Grint
Nisi explains that she was greatly influenced by Bob Ross's videos, because watching him paint improved her mood and made her feel calm, so she wanted to achieve something similar, with the difference that her workshops allow people to participate in the creative process.
"Everything that I do is interactive, I wanted to bring that in, so it's not like watching TV, so you can get immersed in it. I'll turn to the chatbox and ask: 'What colour should we paint the sky?' and the most voted one I paint.
"I think it's beautiful to have the whole group see what they're creating, through my hands and my skills, and afterwards, whoever joined the session as a newcomer wins the painting."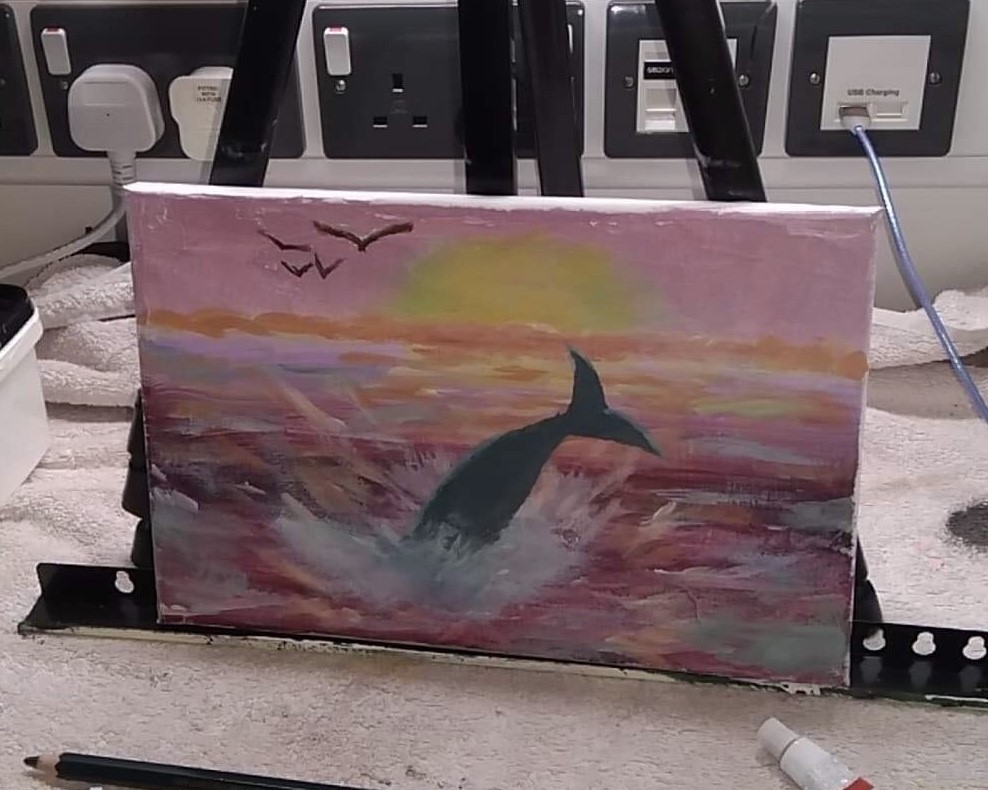 Art has many benefits for the overall health, both mentally and physically, and it doesn't require for someone to be a professional in order to still be beneficial, but it can be the case that some people don't enjoy creating as much as others. For them, Jemma Channing has the following advice:
"Even going to a museum, even if your not making artwork, seeing artwork has a positive impact on people's wellbeing. It's the physicality of walking around a space. Spending some time looking at artwork, because it takes you out of everyday life, that can be good for your health. Just being surrounded by beautiful things it's been proven to be good for you"