Over 25% rise in alcohol related deaths in Kent and the South East
There have been a record number of deaths reported in relation to alcohol consumption nationally, it has been reported by the Office for National Statistics.
In Kent and the South East there were 11.6 alcohol related deaths per 100,000 population last year, in comparison to being 9.2 deaths per 100,000 just two years prior.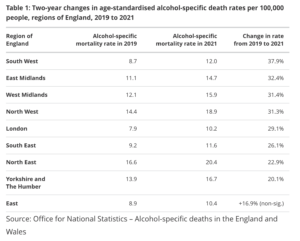 Why has there been a sharp increase?
This 26.1% increase in alcohol related fatalities in Kent have been attributed to an increase in alcohol consumption during the pandemic, according to the Department for Health and Social Care (DHSC).
Alcoholic liver disease typically takes many years to develop. However, increases in alcohol consumption among those who have already been consuming alcohol at higher-risk levels can lead to rises in mortality in a short period of time" – DHSC.
The DHSC suggested that people who were already drinking at a higher level before the pandemic were more likely to report a further increase in alcohol consumption and illness in 2020.
Alcohol charity Drinkaware said on Twitter that the statistics are "absolutely devastating".
Statistics published by @ONS today show that in 2021 there were 9,641 deaths from alcohol-specific causes registered in the UK, the highest number on record. These statistics are absolutely devastating, each number masking an individual family tragedy. https://t.co/kuvp49dTIP

— @drinkaware (@Drinkaware) December 8, 2022
I spoke to a female who wished to remain anonymous, the 45 year old said that she used to drink a bottle of wine a night generally before the pandemic.
Her line of work as a cleaner slowed down during the pandemic especially with her elderly clients who were more at risk so she found herself with more freetime.
"I just found myself with more freetime, especially in the evenings where I would already be having a bottle of wine and I just ended up starting earlier, which meant drinking even more" the single mother said.
"I'm glad I've managed to get back on track now as we emerge from the pandemic, especially now I have seen the scary statistics".
I actually feel quite lucky" – Said the 45 year old cleaner
How are alcohol related trusts coping?
Hetty Palmer works at the Kenward trust, an alcohol and drug rehabilitation center in Kent.
She says that "we most certainly have seen an increase in demand this year in our Stage 1 rehabilitation. For the first time in 20 years we are at full capacity and have a bit of a waiting list too".
Despite the increase in demand, Palmer says that the center aims to offer "the same aim of helping support those with addiction issues to transform their lives and create new futures for themselves away from their addictions. Our work centres upon giving people the opportunity to change their lives and reach their full potential, and with a success ratio of 73% out work is successful for the vast majority who access it".
The trust is located in Maidstone, despite an increase in demand, being at full capacity and there being a waiting list, Kenward is still offering a free assessment by calling 01622 812603 or emailing alice.yates@kenwardtrust.org.uk.
alternatively if you are struggling, you can access help on the NHS 
Featured image credit: Evanto Elements