All You Need To Know About The Gender Gap In The Fashion Industry
It's one of the only industries where the gender gap affects men. A glamorous career driven by ones image. Catwalks, photoshoots, campaigns; the modelling world is unlike any other job with a huge following worldwide. But why do male models get less recognition?
Gigi Hadid, Kendell Jenner, Naomi Campbell, Cara Delevingne and Rosie Huntington-Whiteley are some of the biggest fashion names of today but why do males not get this level of fame? The fashion industry is no doubt directed towards females models and dominated by them but the gender gap affecting men is unheard of in today's society.
What are the statistics of pay in the fashion industry?
A study from 2017, revealed that female models are paid 75% more than men and that women made up 9 of the top 10 highest earning models in British fashion. The only male was David Gandy.
Elizabeth Rose manages male models at Premier magazine and said to the BBC: "Woman could be paid up to £40,000 for walking in a top show. A male model would only get £10,000 on average. The top 10 female models all make millions. Only the top three male models make over a million."
Who has spoken out about it?
Alastair George is a 6ft 2, 23 year-old model signed to one of the most successful agencies in the world, Next Management. He has modelled for the likes of Topman and Prada and now lives in Milan. Talking about the gender gap he said: "The gender gap with pay is very well known amongst most models, men and women. It's simply that women (on average) will earn twice as much for any advertising job. The explanation is that female models work in a much more competitive market, so; they often will seek to become a model, as opposed to most male models who will be scouted and propositioned."
5 Tips From A Professional Model On How To Break The Industry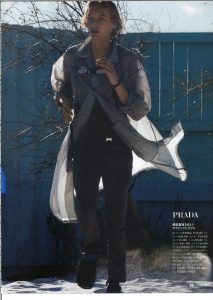 However, Source Commercial Model Agency said: We are a commercial agency so a bit different. Our models all earn the same regardless of gender."
With such a competitive market and in a society where we strive for equality, it's surprising male models do not get the fame and recognition of a female model doing exactly the same job. Diversity is often critiqued in the industry in regards to race but gender is rarely talked about.
What is the representation of men's fashion like in the media?
GQ magazine is one of the only notable magazines dedicated to producing men's fashion and even then it's cover stars are often women.
Fashion Assistant at Fabulous magazine, Daisy Jordan said: "Personally I believe that men are favoured in most other sections of society, so I would rather see diversity to women of colour, transgender models, models of different sizes, ages, etc. Of course this includes men, but they are favoured in other career paths and there's a huge gender pay gap, which is likely to run through modelling too.
It seems unlikely that men will ever get the same fame as female models due to the lack of demand for men's fashion but that doesn't mean male models don't go on to having successful careers. From a personal perspective, the men I know are more likely to read a newspaper or a website/ blog than to pick up a men's magazine."
How does social media affect it?
Alastair said: "If you look at platforms like Instagram, you can see it reflected in the number of likes and followers female models receive as opposed to males (at least, speaking for 'fashion' as opposed to 'commercial' models). There's simply more interest out there for women than men."
Whilst Daisy added: "It is a sad fact in our society that while men are also victim of pressure, it is much greater for women. Men of different ages are represented in the media, whereas this is significantly less likely for women. If women can use social media to their advantage and to broaden representation, then I think this is a great strength. It's about turning a negative into a positive."
Is anything being done?
At the moment no and it is unlikely to change if the industry carries on the way it is.
Daisy Jordan said: "If there's more demand for men's fashion, there will be more representation. It would be good to see more diverse men, rather than just white middle class men, in fashion."
Sue Coe, Head of Employment at the Equality and Human Rights Commission said: "We all know there's a gender pay gap in the majority of workplaces and they exist for many reasons. Some of which is personal choice or circumstance. The point of reporting is not necessarily about the numbers, it's about employers recognising the range of factors behind pay gaps, such as the lack of flexible working options available to staff and biases in recruitment and promotion decisions, and focusing on action plans to tackle the reasons behind them. These are the key to progress."