Ashford McDonald's Cancel Parking Tickets Leaving Paying Drivers Furious
A McDonald's in Ashford has caused frustration to drivers unaware they can cancel their parking tickets.
The McDonald's car-park at Eureka Park is currently monitored by private parking firm, Met Parking, who restrict parking to 90 minutes.
[googlemaps https://www.google.com/maps/embed?pb=!1m18!1m12!1m3!1d2537.011707937307!2d0.867720703812649!3d51.162280740746276!2m3!1f0!2f0!3f0!3m2!1i1024!2i768!4f13.1!3m3!1m2!1s0x47deda6ece9441a7%3A0xb0593777512e8915!2sMcDonald's!5e0!3m2!1sen!2suk!4v1512144549023&w=600&h=450]
People who have received these fines have had them cancelled by the franchise but many are unaware this is happening.
Tickets start at £50 and if not paid within 14 days, increased to £100.
This happened to Bronte Sercombe who received a £100 fine after not opening her first letter. Unaware it was not necessary to pay she panicked and paid the lot.
She said: "I feel extremely frustrated that I had to pay a £100 car parking fine, especially as 2 weeks after paying it, I found out that other people managed to get away without paying it. I think that is it is very unfair and ridiculous that a car parking fine should be so expensive."
Sam Hymers, 19, from Ashford received a parking ticket in July and did not pay it after a staff member offered to help him. He said: "I mentioned the ticket to one of the managers at McDonalds and they were happy to help me cancel it."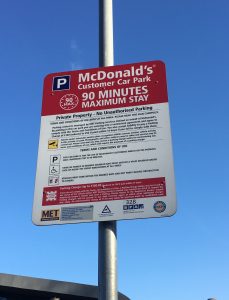 Lois Marshall, 18, from Ashford was given a ticket in October but refused to pay. She said: "I never paid it, I just ignored it as it's private land. Lots of people told me they can't enforce it like the council can."
When contacting McDonald's about the issue they responded: "At a number of our restaurants, parking restrictions are in place to ensure there is adequate parking for customers. Where restrictions are in place, we work with industry-approved contractors to ensure they are clearly signposted and communicated. If a customer feels they have been wrongly ticketed, we would encourage them to get in touch with the third-party contractor who issued the ticket by way of appeal."
Met Parking have been approached for a comment.