Gillingham announce shock season ticket increase
Football teams usually announce their season ticket prices before the new season starts, with the vast majority of teams rewarding loyalty by lowering their ticket prices. This tactic is also used to bring in some revenue during the pre-season period.
Gillingham fans are the latest to be outraged at the price increases of season tickets, with the Gills scrapping their early bird offers.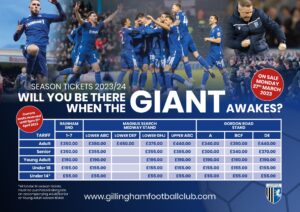 Seniors will pay £350 (£330/£350 last season), while young adults will pay £190 (£170/£195), under-18s will pay £155 (£135/£160), and under-14s will pay £55 (£35/£50).
The Medway Stand now has three categories in the lower tier and one in the upper ABC section, with adults paying £440. Last season, the early-bird price in Upper Block A was £373, with the standard price being £425. It was £420 in Blocks B and C, rising to £480 in Block D.
Last season, supporters paid £360 or £430 in the Medway Stand Lower ABC. Adults pay £380, seniors pay £355, young adults pay £190, under-18s pay £155, and under-14s pay £55.
Adults in Medway Stand Lower DEF will pay £450, while those in Lower GHJ will pay £375.
Adults will pay £340 in Block A of the Gordon Road Stand, and seniors will pay £300, down from last season's rates of £321/£365 and £279/£315 respectively.
Although blocks D and E will charge £440 for adults (last season £426/£480) and £370 for seniors (£352/£405), Gordon Road Stand blocks BCF will charge £390 for adults (last season £373/£425) and £340 for seniors (last season £321/£370).
Fans Reactions
A large number of fans are outraged at these increases and have taken to social media to voice their opinions.
The most loyal Gillingham fans aren't being catered for with this price list. (I'm not a ST holder as I live in Wiltshire) The fact I could buy one for the same price as my mates who've had them for 30 years plus is not the best. (And that's ignoring their 14% price rise)

— Jinxy Smith (@Jinxysmith) March 23, 2023
Many feel disappointed as fans were promised cheaper season tickets by the club's board
Cheaper than last season = £50 more expensive… I'll still be there regardless but can't help but feel disappointed by this https://t.co/EkGVJufevE

— Joe (@_joeb0501) March 23, 2023
The 2023/24 season ticket prices have been released and will be on sale from Monday 27th March on their website.
You can now transfer your season ticket to a friend or relative in case you can't make it to a certain game during the 2023–2024 season.