5 family events to get involved with on the next May Bank Holiday
With the early May bank holiday over, and the Coronation weekend celebrated, our thoughts now turn to the late May Bank Holiday weekend.
In hope that the weather turns bright, here's five family events that you can get involved with, and attend on the next bank holiday.
1.WWII Weekend at Dover Castle
If you enjoy a fun packed day out as well as immersing yourself in local history – this is the event for you.
The weekend includes fun for all of the family including being able to see real vintage army vehicles and attempt to tackle the assault course.
Dates: Saturday May, 27- Monday May,29.
Times: 10am-16:00.
Ticket prices vary depending on age and can be bought here, ahead of the event.
Congratulations to His Majesty The King on his Coronation.
Today we welcome a new era of history, and mark the reign of King Charles III.#Coronation #KingsCoronation #CoronationWeekend pic.twitter.com/f8NqaLGz3I

— Dover Castle (@EHdovercastle) May 6, 2023
2.  Spa Valley Railway- Calling all Peppa Pig fans!
Peppa Pig will be making appearances throughout the weekend at Groombridge station at intervals each day.
Spa Valley Railway have stated that: "Please note, there will be no service to Eridge due to engineering works taking place on the mainline and all trains will run from Tunbridge Wells West to Groombridge and return only."
Something to take note of if you need that stop.
The train fares are as follows:
Adult – £13
Senior (60+) – £12
Child (2-15yrs) – £6
Family (2A+2C) – £32
Trains will be departing Tunbridge Wells West at 10:30, 12:00, 13:30 and 15:00, returning one hour later, each train will spend 30 minutes at Groombridge station.
You can purchase tickets for the weekend here.
Previous guest appearances on the railway have included both Paw Patrol and Bluey.
Who's excited about seeing Bluey this weekend?!

Just a few places remain on our 15:00 departure today https://t.co/Ax1fEwzNs0 pic.twitter.com/wKo7ZkEsKM

— SpaValleyRailway (@SpaVRofficial) April 29, 2023
3. Kent Garden Show
Kent garden show is preparing for its 30th year at the Kent show ground.
Running over the late bank holiday there is plenty to see including the Kent Floral Art Area Show which will be held in the Clive Emson Building.
The Kent Floral Art website says:"Kent Floral Art is the operating name of the Kent Area of NAFAS and is one of the 21 Areas in the United Kingdom which make up the National Association of Flower Arrangement Societies (NAFAS)."
The garden show will also involve floral marquees and floral displays including some medal winners from Chelsea.
Guests will include Jacqueline Aviolet and Jim Buttress.
Opening times are as follows:
9am-5pm with last admission at 4pm and 3pm on Monday.
Tickets can be bought here for the weekend.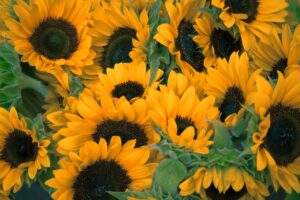 4. The Queen's Joust- Leeds Castle
Another historical and educational day to get the family involved with.
The event will be held at Leeds Castle in Maidstone and will run from Saturday May, 27 – Monday May, 29.
There is a fun packed timetable for the weekend that includes the Joust as well as medieval music and dance.
Activities throughout the day will include blacksmithing forge, medieval food and drink, coin-minting, tailors workshop, weaving and spinning.
The event is included in your Leeds Castle ticket which you can book online.
Our Queen's Joust returns 🐎

Join us over the final May bank holiday (27 – 29 May) for exhilarating displays of combat and action, elegant and unusual equestrian, and medieval living and feasting.

Purchase your admission tickets online for the best price https://t.co/rvMF72LNSz pic.twitter.com/WbKdvqrbF5

— Leeds Castle, Kent (@leedscastleuk) May 9, 2023
5. Art Exhibitions at Westgate Gardens- Canterbury
Canterbury Society of Art will be exhibiting their work and will be there to answer any questions about the exhibit.
The event will be held on Saturday May, 29 and will run from 10am-4pm
It is free admission to this event.
More details can be found here.
Feature Image: Photo by Maria Oswalt on Unsplash