AirTag: The best item tracker for iPhone
The Apple AirTag is an item that I feel like I was born to review. And that's not a good thing.
I am notoriously bad for losing my keys (even around the house) that when Apple announced these and I felt like they were made for me.
AirTag comes in a very minimalistic box and is so easy to setup. Just pull the tab out the back of the AirTag and the iPhone will recognise the it and ask you to label it. Pick from an array of items, like bags, keys, wallets, and away you go.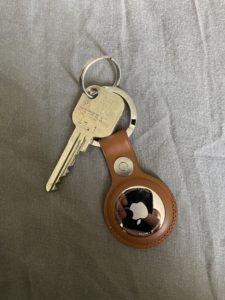 Cost
Costing just £29 for one, or £99 for four, it is competitively priced (especially for Apple). It is similar in price to it's competitors, like the Samsung Smart Tag (£39) and the Tile Pro (£35).
How do they work?
Like all other trackers on the market, they primarily use Bluetooth to for proximity finding but where AirTag goes further is with a technology called Ultra wideband.
If you own an iPhone 11 or 12, both of these devices have a 'U1' chip meaning you are able to use AirTag's 'precision finding' feature.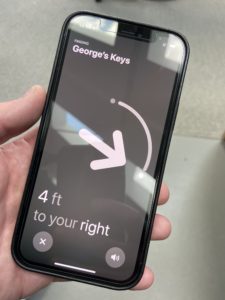 Essentially, the iPhone and the AirTag know the precise location using augmented reality (AR), the iPhone's camera and the position of each other and the iPhone will guide you to AirTag
Through the use of visual and haptic cues, you will be guided to the exact location of the tag.
Real world use
Performance is good and it usually works well in every situation. At times it seems like a game, moving your phone around trying to attract a signal.
If the app cannot find the AirTag you are then reliant on audio cues. The AirTag itself isn't very loud and if stuck under soft furnishings, you probably won't be able to hear it at all.
Stalking controversy
At the moment there are concerns about AirTag being used for stalking (like with any other tracker on the market). In order to combat this, Apple has introduced a message for other users if someone else's AirTag is following them which appears throughout the day.
Battery life
The AirTag uses a replaceable standard CR2032 coin cell which Apple supposedly says will last a year – if you use all of the features twice a day. A rechargeable battery would have been nice, but it might of meant the tracker being larger.
Accessories
Apple sells a small range of accessories for the AirTag, including AirTag Leather Key Ring (pictured at the top), AirTag Leather Loop), and AirTag Loop.
Verdict
Overall, especially for the price, this is a handy little tracker.
It works very well and has a unique finding experience (that works incredibly well), but I wish the sound was louder and the design was slightly more durable. Within hours, the stainless steel back was covered in scratches.
For more information on the AirTag, click here.