Aw shucks! Whitstable's famous Oyster Festival confirmed for 2021
It has been announced that Whitstable Oyster Festival will be returning August 27-30 this year.
Festival organisers announced on their website today: "The 2021 Oyster Festival WILL be going ahead."
Last year the oyster festival was forced to cancel due to the national lockdown. The news was broken on the facebook page:
 "This would have been our 3rd year of producing the event and we were looking forward to putting on an amazing show with wide ranging additions and improvements for the people of Whitstable – but safety must always come first."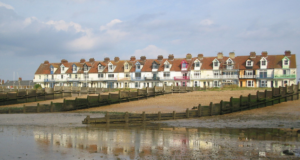 This is "one of the biggest events in Kent's calendar" according to Visit England. 
The Oyster festival celebrates the area's historic oyster trade. Every year the festival features a large parade, the Harbour Food Fair alongside live music.
"We return with the traditional elements of The Landing of the Oysters, Grotters and the World Famous Oyster Eating Competition alongside an extended Food Fair with multiple stages of entertainment and a plethora of culinary delights" states Whitstable Oyster Festival on Facebook.
For more updates on the festival head over to their Facebook page or website.