Archbishop of Canterbury Apologises to Sexual Abuse Survivor
The Archbishop of Canterbury has sent a sexual abuse survivor a hand-written letter of apology.
Justin Welby penned the letter to Andy Morse, 56, Farnham, on November 8, he writes: 'I am so sorry you have had to suffer in the way you have.'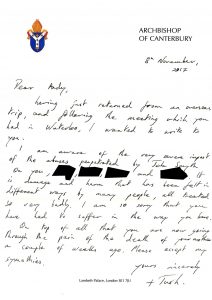 But Andy – a sexual abuse campaigner – is furious claiming the Archbishop got basic facts wrong and wants more than an apology, he said: "The inaccurate and bland content of the letter is offensive to anyone who truly cares about victims/survivors.
"The letter is an example of the impenetrable blockage from justice."
Andy, who is married with 3 children, alleged he suffered sexual abuse at the hands of John Smyth, who currently resides in South Africa outside of UK jurisdiction, from 1978-1982.
Morse campaigned at the Purple Protest outside of the Cathedral on October 6, when a Primate meeting was taking place.
They were demanding answers from Justin Welby, about alleged sexual abuse claims in the Church of England.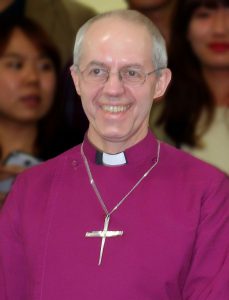 Andy speaking at the protest said: "We have been writing letters to the Archbishop of Canterbury, Justin Welby, for years to try and help us sort out the truth behind why our abuse case took so long to be reported to the police."
A spokesman for Lambeth Palace has said: "We don't comment on the Archbishop's private correspondence."