How a derelict railway station will become a media powerhouse
With more than 120,000 people now living within its district, Ashford is a popular and household name in the South East.
Yet despite the increasing number of houses being built throughout the town, as well as its close proximity to both London and Paris, the town fails to evoke the same prestige as neighbouring areas such as Canterbury and Dover.
However, news this week that a new £250million film studio has been approved in the area of Newtown has generated interest unlike any other in recent times. Joe Harbert investigates how the project is going to put the town back on the map, and transform it as a possible new hub for major film companies including Netflix and Amazon.

The studios are located on the Newtown Rail Works in the centre of the town
Employment opportunities
With four modern film studios to be built in a 240,000 sq. ft studio production space, more than 2,000 jobs will be created when the project is due to be completed in early-mid 2022.
And with the creative industry continuing to flourish into one of the most reliable areas of employment currently, it means a more robust industry couldn't be better equipped to provide local people with a more solid and stable occupation and future.
Master developer Quinn Estates will also incorporate 400 parking spaces, 300 residential apartments, a 120-room hotel and roof-top restaurant, as well as a media village which is to home about 30,000 sq ft for freelancers to be able to work in every day.
Secretary supply companies who sell their products and services to production companies for things such as prop hire are also on the cards, as is space for a new Kent Film School, which is to be in partnership with local universities and colleges.
This abundance of job opportunities will not only inject a new lease of life into the town as a whole, but it will reduce unemployment and provide new careers for young and aspiring graduates in skilled and technical jobs.
Leader of Ashford Borough Council, Gerry Clarkson, admits he is full of praise for the plans, and believes its potential is exciting to be a part of. "This development demonstrates the confidence that investors continue to have in Ashford," the Conservative Party councillor said.
"The exciting proposals involve finding a new use for one of the longest listed buildings in the country, which is of significant historical value but has also been left to decay.
"It will also create sought after film studio space, provide thousands of jobs, and transform a brownfield site which has laid dormant for many years into a film and TV Studio hub, together with a hotel, serviced apartments, conferencing facilities and a health club."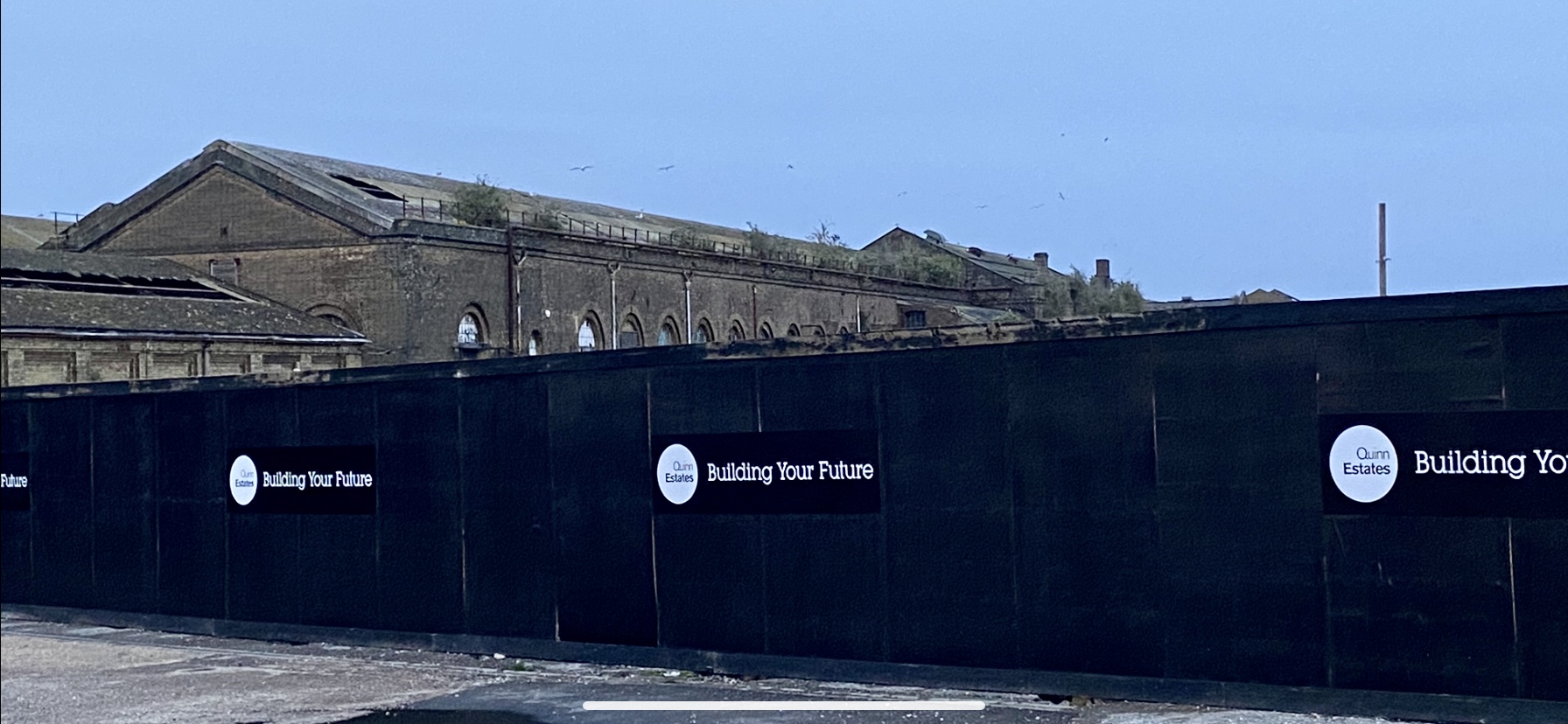 The location of the studios hasn't been used since the 1980s
Architects Holloway have been carrying out plans for three years
Economic growth 
The economic impact report that was completed for the town's planning committee found that for every pound that is spent in the studios after completion, 13 pence will go back into Ashford's economy and into areas such as retail and hospitality.
For a town that is already evolving quicker than most, this is a phenomenal amount of money which will see the site generate a £10million a year revenue for the studios alone – figures that are expected to rise once its state-of-the-art facilities are up and running.
Film producer Jeremy Rainbird, whose organisation The Creative District Improvement Company are behind the scheme, says the finished product will undoubtedly benefit the town financially.
He explained: "Any stages that get built will be booked solid. When crews arrive, they all spend hundreds of thousands of pounds and when there's such a little margin for error, that will have a hugely positive effect on the local economy.
"Ashford is also the first place in England that Europeans come to, so when you consider that Brexit is now underway, creative businesses need to have a base in the UK to be able to trade here.
"So what we're saying to them is you don't have to get on the train to go to London and pay £75 per sq. ft for an office in Soho when you have facilities like the one we're planing that are also much cheaper to work in and travel to."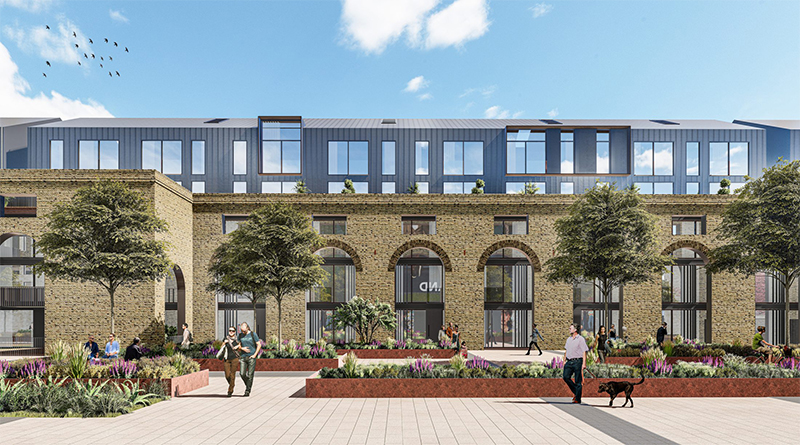 Councillors have labelled the proposals as 'exciting'
Located just minutes away from Ashford Designer Outlet – a tourist hotspot that attracts more than five million visitors a year – as well as nearby Eurostar at Ashford International, the location of the development couldn't have been better engineered.
Initial rumours have claimed that broadcasting giants Netflix and Amazon have been just two of the biggest groups interested in using the studios when they open.
The former have 158 million paid memberships in over 190 countries, and with an estimated shortage of four million studios in the UK generally, their alleged interest would appear stronger than just rumours as they hunt for much-needed space to grow.
What's more, some companies have even enquired about scheduling dates for the studios use in three years time. Were it to be some of these streaming giants to commit themselves to the project, their stature would no doubt attract some of the biggest names in media to the studios.
Mary Hazel, who lives within touching distance of the site in Willesborough, says members of her household stream TV and film content via Amazon Prime, alongside Netflix. A fan of their services, she says she is eager for the project to be built.
"It's a fantastic idea because we have nothing like at all like this around here," the local resident said. "People often say that the only thing ever being built nowadays is new houses, so it's really refreshing to have something new that we can hopefully be proud of.
"I'm a little bit worried about the congestion, but to say that I live literally down the road from these companies is pretty exciting to think about."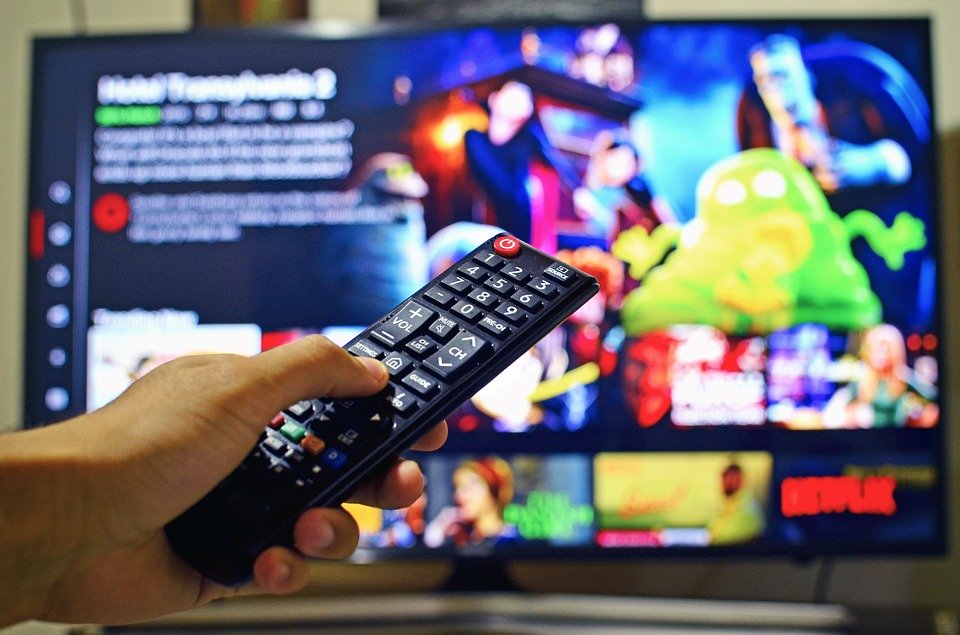 Netflix have seen 16 million sign up to its service in the first three months of 2020 alone
Architecture and design
Arguably the most attractive element of the studios is the site's 18-storey tower, which will be the location of the site's hotel in addition to 68 service departments.
Architects Holloway have been behind the designs, which have now been in place for three years, and their ambitious creativity will allow the site to not only be visually empowering for Ashford, but it will also highlight the project's contemporary ideas like top-of-the-range acoustic and lighting equipment internally too.
Mr Rainbird, who has downplayed initial concerns over parking and congestion, also says that the site's exterior will act as a 'beacon for the community.'
The film producer added: "The public realm is going to have lots of beautiful, living architecture within it. We're even talking about lighting the tower with a keyline light around it so it looks like a 3D drawing into the sky that can be seen from miles away.
"This will have it acting as a real beacon for the community, so for me the council have done a fantastic job in making it happen by being absolute visionaries, and I think that it's going to be a joy to build."
Another aspect that has been praised by councillors is its environmental implications. The Grade II listed railway building means it is legally protected from being demolished with its great historical nature.
Ashford's Liz Wright, who is one of two Green Party councillors in the nearby Willesborough ward, has also acknowledged its restoration advantages.
"I think this is a very important decision for Ashford, and personally I fully supported it," she said. "I'm trying at every planning meeting to press for the highest possible standards of sustainable building development, and the great feature of the studios is the very long roof, which will be covered with solar PV panels, which is to be welcomed."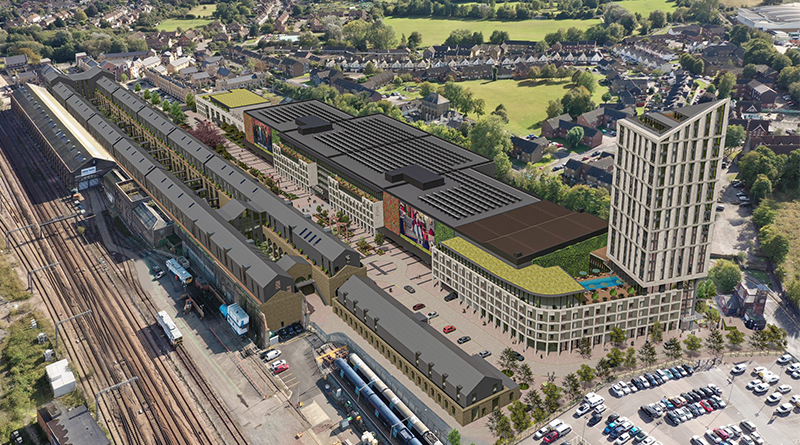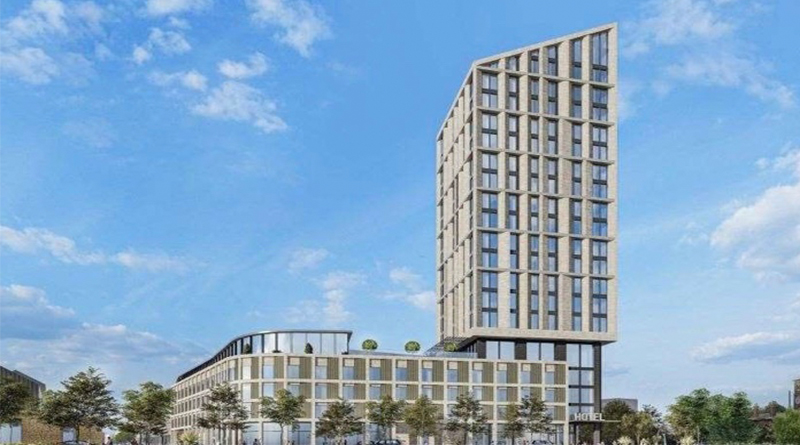 The project's hotel tower is forecast to be 18-storeys high
All photo plans are credited to 'Newtown Works – Quinn Estates'