Boris Johnson hides in fridge to dodge interview
The Prime Minister, Boris Johnson was ambushed this morning by GMB reporter in Leeds resulting in him hiding a large fridge and one of his aids mouthing "oh for f***s sake" on morning television.
In the video of the incident as Jonathan Swain approaches the PM is doing an early morning milk round in Yorkshire, one of his aides mouths "oh for f***s sake" leaving both Piers Morgan and Susanna Reid shocked.
Boris Johnson hides in fridge on live TV while dodging interview on eve of election pic.twitter.com/bpBidNMgnu

— The Independent (@Independent) December 11, 2019
A Tory source has since said that he was not swearing at the reporter, he was expressing a general frustration.
Today would've been the last chance for the Prime Minister to appear on the show before tomorrows election, which he had promised to do two months prior.
Our @SwainITV has located Boris Johnson, who's doing a milk round this morning, to see if the PM will finally speak to @piersmorgan and @susannareid100.

It looks promising. Watch this space… pic.twitter.com/ndNJ67tmco

— Good Morning Britain (@GMB) December 11, 2019
Tweets from the general public have been shared to express their opinions on the shambolic state the country has found itself in.
PM in the fridge, Brexit in the oven, NHS on the table, Union in the bin

— Ivo Graham (@IvoGraham) December 11, 2019
Can you imagine how bonkers it would have been in 2015 if David Cameron or Ed Miliband had hidden in a fridge to escape reporters? And now we're like, "bit weird but sounds like something the Prime Minister would do"

— Abby Tomlinson (@twcuddleston) December 11, 2019
Corbyn claims Labour will come out on top with "no problem at all"
Polls for a Tory victory are looking more likely, however Jeremy Corbyn is still insisting he has nothing to worry about.
I've not come here to deliver milk, or to hide in a fridge,
Teasing Boris this morning outside the Sporting Lodge Inn he announced to hundreds of supporters:
" I've not come here to deliver milk, or to hide in a fridge, I've come here with a message of hope."
Talking about why he has so much hope for a Labour win, he said: ""We've had six weeks in which we've been campaigning all over the country and we've had six weeks in which we've been under relentless media assault against my party, nevertheless, our message has got through."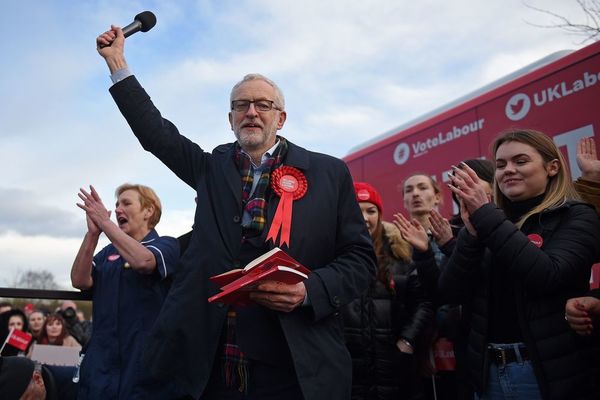 Former No 10 pollster has warned of a "fast and late" Labour rush after YouGov's MRP poll predicts that the Conservatives are on course for a 28-seat majority – down from the 68-seats predicted just two weeks ago.
The upcoming election polls open tomorrow morning at 7am and close at 10pm. If you're still unsure on who to vote for check out this general election guide– it explains all the main parties, their policies and promises.