Charity football match set to come to Ramsgate
A dad of three from Margate has decided to create a charity football match, raising money for Rainbow ward at QEQM hospital in Margate.
Tim Johnston decided to organise the event after his son, who has a rare autoimmune disease, goes to the hospital regularly.
The charity event will be held on Sunday, 9th July 2023, at Ramsgate Football Ground.
"One of my sons, Otis, has a rare autoimmune diseases so we are up there very regularly," Tim Johnston said.
"He is actually there once a month to get a get a blood test.
"It is a family day out where it's free to to come along to, and every single penny of what we raise is going straight to the to the rainbow ward, a lot of people have got behind it, which is great."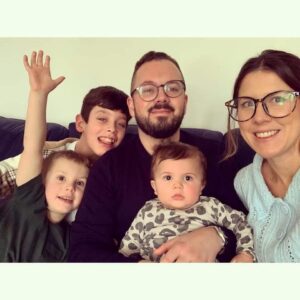 Mr Johnston, the manager of digital marketing agency, Johnston Marketing, revealed the story behind the choice of charity: "Being a father of three, all of my children, unfortunately at different times, have had to to use the services at the rainbow wards." 
"We've got friendly with the people working there and we know about the the great work they do and I know that their playroom was in desperate need of a refresh"
Mr Johnston started the fundraising with a goal of £1,500. However, the gofundme page has reached £5,325, two months before the event is scheduled for.
He said that he is overwhelmed yet so happy with what they have done. 
"The Thanet community is incredible, this is a testament to that," he said.
"I've had incredible donations from personal donations. I've had loads of offers, so we've got lots of things going on at the day and then some of the sponsorships I've had from businesses have just been unbelievable."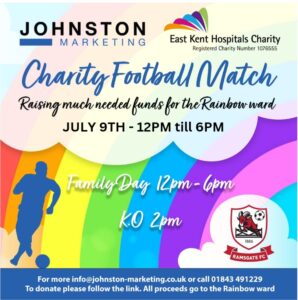 Mr Johnston said that his smile is getting bigger every day: "Every day I wake up, the smile on my face gets bigger because I see how much we've raised for the for the rainbow Woods, it's been brilliant.
"We have still got two months to go, so that's another great thing, we've still got time to raise even more, which is mad to think.
"It just shows you that when we all need to get together and and make things happen, we do it and it's happened time and time again over the years around here. It is one big community." – Tim Johnston
Mr Johnston wants to send a thank you to everybody who has donated already.
"Let me just say a massive thank you to everybody who's involved, the sponsors, the personal donations, Ramsgate Football Club, the East Kent Charity for working with me on this and yeah community always wins," he said.
More details about the event & where the donations will go, can be found on the gofundme page.