Co-op stores seek partners for food share scheme
The Cooperative are seeking partners to collaborate with for their food share scheme which started last May. 
After starting their food share scheme in May last year, The Cooperative are still working hard to find non-profitable organisations.
The goal is to reduce food waste by partnering up with local community groups to donate items to help schools, youth groups, the homeless and vulnerable people.
Following the recent climate change issues, the food share scheme is an effective way of targeting global warming whilst giving back to the community.
The shops donate food that they are unable to sell anymore e.g. 'best before' or 'use by', however, is still perfectly edible.
Sadie Robson, Kent Cooperative employee said:
"co-op have started a food share programme in all of its stores and I'm trying to get people to sign up…
"It's such a shame to waste food that could be some help to someone else"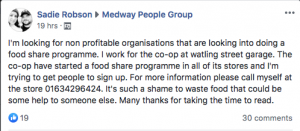 Despite the o-op food share scheme being a success, local stores are still reaching out to people to find organisations that are willing to help and get involved.
A spokesperson for Co-op said:
"with the programme barely a year old, we already have over 1,000 stores partnered with over 700 local community groups donating more than 100,000 items every week…
"the initiative differs from other Food Sharing programmes as stores partner directly with local groups…
"because we leverage local relationships, we are able to build strong bonds with the local community, which fits with our values and our vision of a stronger Co-op building s stronger community"
For more information on how to sign up, visit food.coop.co.uk
To read more about climate change, click the links below: