How England's Gold Medal Proves Netball Isn't "Sissy Basketball"
Netball is a sport that doesn't get enough recognition, despite being the highest participating sport for women in England. It's because of its reputation from school that people do not consider it to be a sport. Sally Peck once wrote in an article for The Telegraph, "Netball is a ridiculous sport – it's sissy basketball, seemingly designed for dainty flamingos who don't want to break a nail."
 But this is about to change after England netballs shock win against Australia to claim Gold at the commonwealth games. It thrust them into the spotlight, people who have never watched netball before watched it; and they finally saw real netball. A fast-paced, physical game; not a "sissy version of basketball."
The media coverage since the gold medal match has been huge. It made the front page of The Telegraph, something that is unheard of for netball. The BBC has been doing brilliant coverage of it, and because of this, so many young people are being inspired to pick up a ball and play netball. Even celebrities have noticed what a fantastic game netball is, with many expressing this on twitter.
Literally @EnglandNetball is legit the best game I've ever watched . Congrats Ladies x

— R Y L A N (@Rylan) April 15, 2018
Huge congratulations @EnglandNetball on an unbelievable performance and win. What an achievement! @Tracynev has done an incredible job. And what a brilliant team effort from all the players. @TeamEngland x

— Holly Willoughby (@hollywills) April 15, 2018
For those that are already netballers, this is also huge. It's amazing to finally see your country succeed in your sport, especially after years of getting 3rd or 4th place. Helen Housby, who scored the winning goal, said to the BBC, "Hopefully we've inspired people who are watching at home, you know kids who have seen us on the TV, we didn't have that, we were watching England get bronze, or just not quite making it."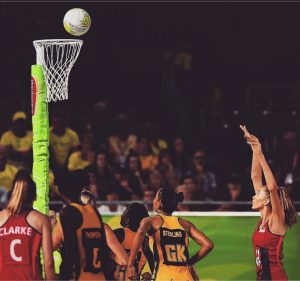 It'll inspire a whole generation of netballers, aiming to one day have a gold medal around their neck; and hopefully, one day participate in the Olympics. After the huge success at the Commonwealth, netballs leading figures will be holding talks with the International Olympics Committee, at this week's SportAccord conference in Bangkok, about the inclusion of netball in the Olympics. The huge rise in profile and the increase in popularity around the world should support the campaign.
If netball gets into the Olympics, it'll be huge! Every single netballer in the country has wanted this sport to be included for years;
Fiona Kerr, president of Canterbury Christ Church netball society said, "I think this is a huge breakthrough for English Netball, it shows the size of the sport in our country and should really encourage both men and women to take part! The commonwealth games has really shown the importance of netball and I think netball should be in the Olympics as a result of this!"
It's about time that netball gets the recognition it deserves, even though they haven't won Gold before, they have been consistently performing to get bronze in most competitions. Something that other sports such as, men's football and hockey, haven't been able to achieve.
http://thecanterburyhub.co.uk/2018/04/20/england-netballs-gold-medal-team/