Herne Bay artist's life long dream comes true 
Andrew Livesey, 71, a retired engineer, finally showcased his collection of work 'Contemporary Images of Kent' after years of working in unfulfilling jobs.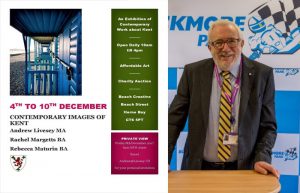 Andrew's two daughters also contributed to the exhibition, making a family trio.
The display was held at Herne Bay's Beach Creative, a non profit organisation, between  December 4th, 2017 and December 10th, 2017.
Andrew Livesey, Retired Engineer, said: "We like Kent, and we wanted to celebrate Kent"
The artwork displayed at Beach Creative was based upon significant areas of Kent, especially Herne Bay and Margate.
[youtube https://www.youtube.com/watch?v=zZlwKATGmjw]
Some of the art work was abstract and figurative, including paintings on driftwood washed ashore Kent's coastline.
Unfortunately, Andrew was unable to go to art school. He told us that after taking a management course he wanted to continue studying.
He added: " I've always drawn and painted all my life. The Masters degree was the best thing I've done'.
 Both Andrew's daughters, Rachel Margetts and Rebecca Maturin, are artists and have their own styles of creating artwork.
The family moved from across the southern coast, from Somerset to Surrey and finally settled in Herne Bay.
Beach Creative's Director, Mandy Broughton, said that the non-profit organisation have "reasonably priced artist studios available to rent" for artists who wish to carry out their work.
Mandy added: "art is getting cut more and more in schools, younger generations really have to get out and look for the things they are passionate about."
Beach Creative's upcoming events can be found here.