Kent Specials Chief Inspector receives MBE
Specials Chief Inspector Derek May, has received an MBE after 49 years of voluntary service to Kent Police.
The volunteer received his MBE at Buckingham Palace yesterday for services to policing and the community.
Chief Inspector May has volunteered since 1970, giving 100 hours a month to support officers.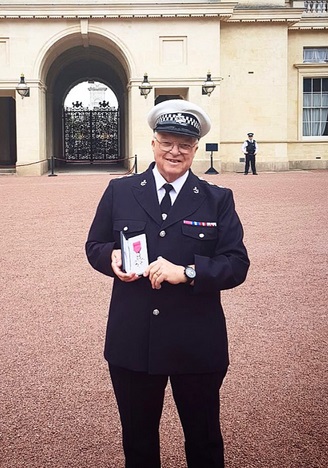 Congratulations to Chief Inspector Derek May of @KentSpecials, who received his MBE at Buckingham Palace yesterday for an incredible 49 years of service. Keep up the good work Derek – you are an inspiration to us all. pic.twitter.com/XZ9eaTWev5
— Kent Police (UK) (@kent_police) May 3, 2019
May also set up the first Special Constabulary Roads Policing Unit in the country, training specials in advanced driving.
On his MBE, the Specials Chief Inspector said: "I take this award not only as personal recognition but also recognition of the outstanding force that is Kent Police and the role we all play in keeping it that way.
"I'm humbled and surprised by this award, and very grateful and honoured."
Chief Constable Alan Pughsley added: "Half a century of police work is worthy of recognition, doubly so as it has been entirely unpaid."
In 2014, Kent were the first ever Special Constabulary to win the highest award for volunteering, the Queen's Award for Voluntary Service.
Currently there are 300 Kent Special Constables who giver over 100,00 hours of their time a year to serve access the county.
They are trained to the same level as full-time officers, but don't get paid.