We'll be keeping you up to date with breaking news and news stories around Kent here, on our live blog. 
If you have any information for us tweet us: @canterbury_hub
TRAVEL:
15.41: Canterbury, A28, Wincheap has slow moving traffic in both directions between the A2 and the Wicheap roundabout. Delays are expected.
WARNING:
15.31: Police issue warning after they are a number of burglaries in the Palm bay and Kinsgate areas of Thanet. Read where the incidents took place here.
POLICE:
15.28: Two men have been jailed after nearl £8 million pounds worth of cannabis was found at an industrial unit in Sittingbourne. Read more here.
TRAVEL:
15.21: Maidstone, A229 towards Maidstone town centre has now cleared following earlier congestion.
[googlemaps https://www.google.com/maps/embed?pb=!1m18!1m12!1m3!1d2496.2155178653175!2d0.5207574933208925!3d51.27035185988411!2m3!1f0!2f0!3f0!3m2!1i1024!2i768!4f13.1!3m3!1m2!1s0x47df305f2f3174c5%3A0x35609906eb3c045b!2sA229%2C+Maidstone!5e0!3m2!1sen!2suk!4v1484925789203&w=600&h=450]
APPEAL:
15.17: Kent police are appealing for witnesses after a robbery in the underpass by Old Beverly Park in Canterbury on Wednesday.
TRAVEL:
15.07: Dover Traffic Access Protocol has been started on the A20 at Aycliffe due to heavy freight volumes.
UPDATE:
14.46: Here is an update on our latest stories:
APPEAL: 
14.07: Witnesses are sought after money is reported stolen from cash machine in Delce Road, Rochester.
TRAFFIC:
13:55: UPDATE! Lights are now back and working on Princes road in Dartford.
13.46: Traffic on the A21 Pembury road is slow northbound between A263 Pembury road and the roadworks.
INCIDENT:
13.44: A police helicopter is searching for a man in Southbourgh, near Tunbridge Wells for a man whose welfare the police say they are concerned about.
TRAVEL:
13.32: UPDATE! The A20 London road/Rocky Hill has now been cleared after earlier congestion.
WARNING:
13.17: Simon Langton School For Girls has issued a warning to parents after a student was reportedly followed by a man in Canterbury city centre.
Parents have reportedly been informed by the school that they were working with Kent Police to establish the facts of an incident in which a student was followed by a man in the City Centre on Thursday (January 19).
BREAKING:
13.22: Canterbury Christ Church to charge 10p for polystyrene containers, starting monday.
POLICE:
13.18: A 35-year-old man has been charged with connection to violent demonstrations in Dover last year.
TRAVEL:
13.13: Slow moving traffic in Maidstone on the A20, due to a lane on Maidstone bridge.
12.33: UPDATE: The Sturry area, at the A28 Staines Hll is still partially blocked following an earlier collision.
12.31: Slow moving traffic on the A21 southbound between A26 and Longfield roundabout. Delays expected.
WARNING:
12.19: Kent County Council issue gritting warning for tonight. All main roads are set to be salted.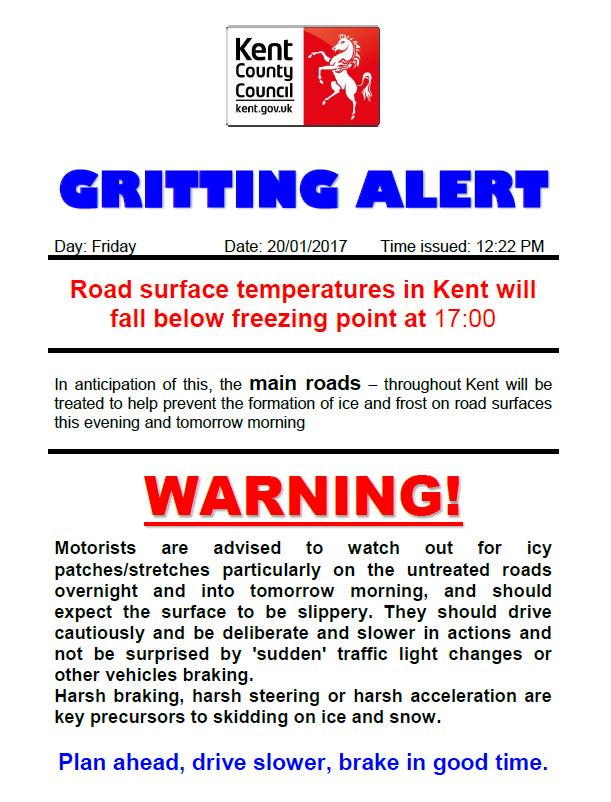 POLICE:
12.25: An 18-year-old has been charged in Tunbridge Wells with heroin offences. Read more here.
12.16: Police officers are appealing for information after discovering cannabis plants being cultivated in Edenbridge. More information found here.
SPORT:
12.05: England's Number 1 table tennis player, Paul Drinkhall, will visit Thanet Vikings club for a full session to show off his talents and coach local players.
POLICE:
11.43: Four men arrested in Maidstone for suspicion of burglary. Breaking story here.
TRAVEL:
11.36: Delays on Princes Road, Dartford, after light signals have stopped working. Kent County Council engineer on the way.
POLICE:
11.20: Police appeal for witnesses after assault in Gravesend. More information found here.
11.12: Police appeal for a man who missed a court date relating to a burglary, click here.
11.05: Man sentenced to four years in a youth offenders institute after stealing fried chicken. Find out more here.
JAILED:
11.06: A paedophile has been jailed for six years with intent to meet and sexually abuse a 5-year-old girl. Read more here.
BREAKING:
6 people have been found alive two days after an avalanche at a hotel in Italy.
TRAVEL:
10.28: Earlier congestion in Canterbury, A28, Wincheap has now cleared.
POLICE:
10.24: A man has been jailed after stealing from a 101-year-old lady. Read more here.
10.03: 125 people were arrested in December for drink driving. To find out which Kent towns were the worst click here.
TRAVEL:
10.02: UPDATE! Congestion on the A229, Maidstone, has now cleared.
9.44: Congestion on the A229, Maidstone, at Sheals Crescent. Delays expected.
9.05: Expect delays in the Sturry area after an RTC accident. KCC representative is set to be on the scene soon.
9.05: The A249 Sittingbourne road is now reopened after a lorry had broken down.