Reviewed: Canterbury ice rink – ice or bust?
Tickets have been on sale for Canterbury's latest spectacular Christmas attraction – Canterbury on Ice.
The venue opened in Dane John Gardens on the 29th of November and is pitched there until New Years Day. Customers can ice skate every day, in between those dates (except Christmas Day).
Customers are invited to either book online, or they are able to turn up and purchase tickets on the doors.
The rink is complemented by a range of outdoor food and drink vendors, from sausages, pizzas and crepes. Bars sell alcoholic and non-alcoholic drinks.
Despite criticism from campaigners about the rink being an "environmental crisis", last night, we visited the rink, and gave our best go on the rink.
Despite it being a pop-up venue, Canterbury on Ice feels very welcoming and inviting. Tickets are purchased at a booth, and it accepts cash and card.
"I thought it was a really good atmosphere and I quickly found my feet after not skating for a few years."
Once you get to the rink, you swap your shoes, for your ice skates – a very straightforward and quick process. And from there, its down to you, to hit the ice.
The ice rink is massive – there's enough space for at least forty skaters at one time. The purple lights create a very festive glow and the music – is upbeat, and exciting. If you prefer a quieter and more relaxing experience, on Saturday the 7th and 29th there is a session without the lights and music.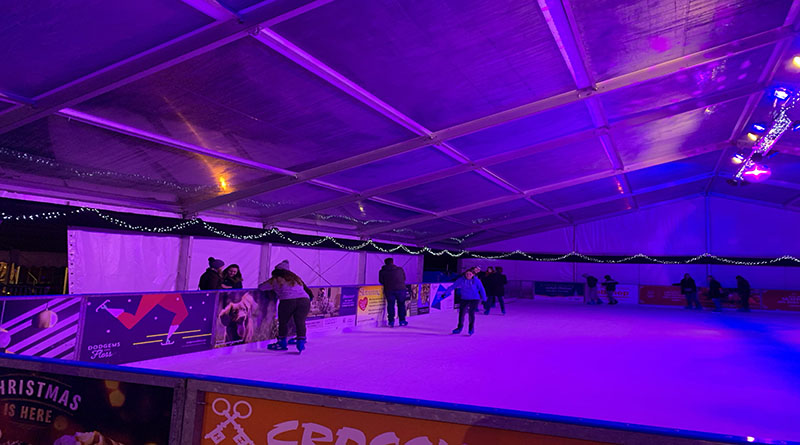 Martin Siddle, who visited the rink last night said "I thought it was a really good atmosphere and I quickly found my feet after not skating for a few years. The tickets were a reasonable price, and we also got student discount! The ushers were helpful – I had difficulty putting my skates on."
The rink is mixed ability – there were definitely skaters there who ought to be professionals, and there were us – just about managing to stand upright.
For those who are a little younger, and might require help, you can rent a penguin aide, which can you use to keep balance.
Canterbury on Ice was supplied and fitted by Iskate, a leading company in the industry. They have a vast portfolio, such as the ice rink for hit TV show Dancing on Ice, and even the ice rink at Canary Wharf.
Canterbury on Ice is located in Dane John Gardens – a two minute walk from the bus station.