Woman Pulls Children Away From Canterbury Student Leader Dressed As A Muslim
A woman dragged children away from a Canterbury student leader while he was dressed in traditional Muslim clothing.
Canterbury Christ Church Student Union president Krum Tashev wore Islamic attire for a day to raise awareness for Islamophobia week.
The 22-year-old was by Canterbury East station when he saw a woman with two kids walking towards him.
He said: "We were on the same side of the streets. I was walking towards her and she was walking towards me.
"She saw me and grabbed her two kids and said 'Let's go on the other side of the road, kids. There's a Muslim!'"
Krum claimed that he attracted a lot of attention while walking around the streets of Canterbury.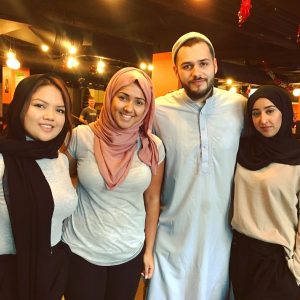 He added: "I was walking on the streets and noticed that people were actually looking at me. I felt a bit odd.
"I walked past a group of people and I noticed them looking at me.
"As soon as I looked at them, they turned away."
Krum took part in an event called 'A day in the life of a Muslim', which was set up by a Christ Church student.
Organiser, Hafsa Hasan, 21, wanted non-Islamic people to understand the discrimination Muslims face in their every-day lives.
She said: "What he [Krum] experienced is what Muslim people experience day to day, but much worse. It's that but on a higher scale in different areas in the country and the world."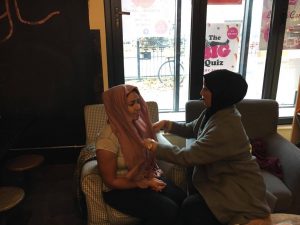 The act received backlash after Krum posted a picture on his social media profile.
Facebook user, Danny Nasr was displeased with the event and commented on the post.
He said: "A religion isn't a costume? This is f*cked up, in my opinion.
"Sorry, but I find white people 'dressing up' as a Muslim to 'feel what it's like' a bit offensive."
The curator of the event is Muslim and responded to the backlash in defence.
Hafsa said: "I feel offended that you don't want non-Muslims to learn about other faiths.
"The idea of this event was to experience what Muslims go through because of Islamophobia and hate crime. Spreading awareness of such thing is NOT and should not be offensive whatsoever.
WATCH: Krum Tashev's account of 'A day in the life of a Muslim'.
Krum sent his apologies to those who were offended through one final comment.
He said: "I was asked by Hafsa Hasan if I can take part in the 'Day of a life of a Muslim'. The event was organised by the Diversity committee and lead by Muslim students. The idea was not to mock someone or for me to wear it like a costume, but on one hand to support the Muslim community in CCCU in a way that they felt appropriate and in the other to have better understanding of the experiences of Muslims in Canterbury.
"I am apologising if it looks like a costume or if someone is offended by it, this was far from what we tried to do."