6-year-old baking prodigy gets birthday message from two celebrity chefs
Baking master 6-year-old Oscar Petre, has received a twitter mention from @JamieOliver for his recent birthday!
Awww, happy birthday Oscar! DM us your address and we'll send you a little present! Hope you have a great time at @JamiesFifteen

— Jamie Oliver (@jamieoliver) December 14, 2017
Alongside this celebrity chef, @NigellaLawson also wished Oscar a happy birthday!
Happy Birthday Oscar!

— Nigella Lawson (@Nigella_Lawson) December 14, 2017
Absolutely thrilled, his mother Sam Petre, 31, said "I'm speechless, this will make his birthday, he refused a party, all he wanted to do was go to [Jamie's restaurant] 'Fifteen', he will be over the moon!" and he'll be "one super happy boy".
The skilled, pint-sized chef has been cooking since he was three-years-old and absolutely loves it! Oscar even has his own Instagram account with 138 followers!
Follow @oscars_cooking_  to see what marvellous creations he will be making.
https://www.instagram.com/p/BYWNpI0nG92/
His mother continued to say, " He loves him [Jamie], watches '30 Minutes' all the time, Jamie is his inspiration", and "he wants his own restaurant".
It's amazing he's doing something he enjoys, he sold some cakes on the drive the other week".

He made us a roast dinner the other Sunday […] and made us all sit at the table to eat it. No one was hungry [afterwards]"
WATCH: The moment Oscar finds out he will be getting a birthday present from Jamie Oliver!
The Petre family had been 'trying for ages to contact him […] hoping he would be at his restaurant when we go, but had no luck".
When asked how Oscar had learnt to cook, his mother replied that, "mostly [learnt from TV chefs] and probably because my cooking is so bad!"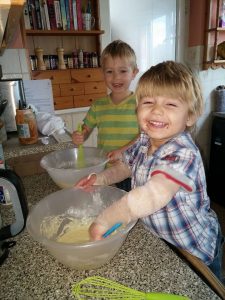 One of Oscar's favourite TV chefs included, Nigella Lawson, who signed his cook book at a signing in October this year.
The well-developed skill Oscar has, will inevitably set him up for a long and successful, healthy life filled with homemade food.
Happy Birthday Oscar!

— Nigella Lawson (@Nigella_Lawson) December 14, 2017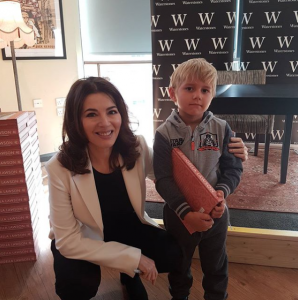 Interested in what Little Chef has been up to? Click through our slideshow to have a look!
Recently, Oscar's Kitchen teamed up with his 16-year-old friend, Jack Little, at the Herne Bay Produce and Craft Market on Sunday 10th of December, showcasing some of their fabulous bakes, made from hours of effort in Oscar's kitchen!
Jack Little, 16, said, "We've baked traditional foods, such as Bakewell tars, mince pies, gingerbread men and shortbread", "We both enjoyed cooking [I thought] why don't we combine our skills together, and start our own little business".
The due raised profits and 'anything left over' went to the local Herne Bay nursing homes.