All You Need To know About England Netball's Gold Medal Team
How did England win the Commonwealth Gold?
There are a few factors that contribute to the reasons why England won Gold. Firstly, they had a new manager appointed in 2015. This made a huge difference to the team, as Tracey hit the ground running. She improved the players game, fitness and tactics and it shows; England are playing the best netball they've played in years.
The second reason why England won Gold was due to many of their squad playing in the better leagues down under. Of the 12 athletes, eight play their trade down under in the Australian or New Zealand leagues. These leagues are the best in the world and allows players to perform to the same standard as international games, on a weekly basis. Every player that has gone over there, has improved their game massively.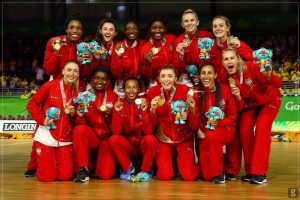 Who is the manager?
Tracey Neville
Tracey is a retired English netball player, who won bronze,in the 1998 Commonwealth Games. Since retiring, she has been dedicated to raising the profile netball, as well as coaching. She was head coach of Manchester Thunder, a Super League team, who won in 2014, before being appointed as Head Coach of England in 2015. She is also known for being Gary Neville's sister.
What was the starting Line Up?
GS: Joanne Harten
Jo Harten is considered one of the best shooters in the world. Her calm and composed manner has helped in a number of sudden death moments. Harten started her career playing for Loughborough Lightning and stayed there until 2013. During this time she was also selected to represent England and her talent was recognised by semi-professional teams in New Zealand. She then moved to Canterbury Tactix for one year, before moving on too Waikato Magic where she remained for two years. She currently plays for Giants Netball in the Australian Super Netball league, who came second in the 2016/17 season.
GA: Helen Housby
Helen Housby, another shooter known for her cool composure. Housby's career started back in 2013 when she signed for Manchester Thunder, who were under Tracey Neville's management, she remained there until 2016. During this time, after a huge last-second goal which won Manchester Thunder the netball Super League, Housby was selected for England and just like Harten, she was recognised by the Australian leagues. She currently plays for the New South Wales Swifts.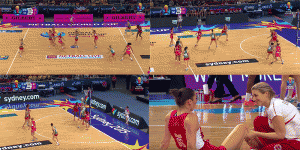 WA: Chelsea Pitman
Pitman is an Australian-born netball player but was selected to play for England, through her Yorkshire born father. Her career began in 2010 with the Canterbury Tactix, she has since represented Queensland Firebirds, West Coast Fever, Manchester Thunder, Central Pulse and Adelaide Thunderbirds. She has also represented the Australian Diamonds, with 18 caps.
C: Serena Guthrie
Serena is a netballer, well known for her speed and athleticism. Guthrie broke onto the netball scene in 2007 where she represented Team Bath, a year later she was selected to represent England. In 2015, Guthrie moved her trade to New Zealand where she played for the Northen Mystics for a season, before joining Harten at Giants netball in2017.
WD: Beth Cobden
Beth Cobden is new to high-level netball. She was selected to play for England in 2016, before she joined any Super League team. She was then selected to represent Loughborough Lightning in 2017.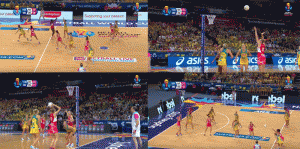 GD: Eboni Beckford-Chambers
Beckford-Chambers made her international debut in 2008. As well as playing for England, Beckford-Chambers started her career, in 2006, playing for Team Bath. Since then she went down under to Australia and played for West Coast Fever (2012-2014) and Adelaide Thunderbirds (2015) But she has now returned to her roots and is currently playing for Team Bath again.
GK: Geva Mentor
Former captain, Geva Mentor is the veteran of the squad and made her debut in 2000 at only 16-years-old. She was the first England international to take her trade down under in Australia and received backlash for it, she was unable to play for England for a year. Since then, England netball has seen the benefits of having players participating in Australia, now allowing their players to play in the Australian/New Zealand leagues. She is now an Australian citizen and captains the Sunshine Coast Lightning.
Who were the subs?
Jade Clarke
Earning her 150th cap in the Gold Medal match, the former captain is also a veteran. She made her international debut in 2003 and hasn't looked back since. In 2011 she was made captain and led them to a Gold Medal in the 2011 World Netball Series. She is another player to take her trade to New Zealand and Australia, playing for Northern Mystics, Canterbury Tactix, New South Wales Loughborough Lightning and Adelaide Thunderbirds. She currently plays back England for a new franchise called Wasps.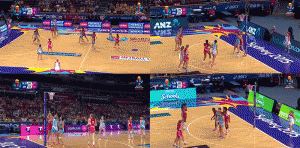 Ama Agbeze
Captain of the team, Agbeze, made her international debut in 2001. She has played for a number of clubs over the years, including playing in Australia. She played for Loughborough Lightning, Leeds Carnegie, West Coast Fever, Melbourne Vixens, Central Pulse and Adelaide Thunderbirds.
Natalie Haythornthwaite
Haythornthwaite is another new addition to the England squad, making her debut in 2016. She currently plays in the England Super League and has done for a number of years, getting player of the year in 2015. Over those years, she played for Yorkshire Jets, Manchester Thunder and now currently plays alongside Jade Clarke at Wasps.
Kadeen Corbin
Corbin has been in and out of the England squad, since her debut in 2011, due to injury. She started her career at Team Bath, before moving to Hertfordshire Mavericks, Loughborough Lightning, Silvermoon Taxtic but has made a return to her roots, at Team Bath for the 2018 season.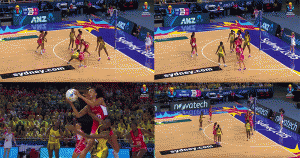 Jodie Gibson
Jodie Gibson is the newest member of the England squad, making her debut last November. She plays in the England Super League, currently playing for Severn Stars, having played for Manchester Thunder and Loughborough Lightning in the past.