Worth the Weight vintage sale returning to Canterbury
Worth the Weight vintage sale is coming back to Canterbury's Westgate Hall in May.
Buy vintage by weight at wholesale prices, everything £15 a kilo. – @worththeweightvintage
This much loved event has been put on halt for several months so people are excited for the sales to be back. The vintage kilo sale is back in Canterbury's Westgate Hall on Sunday the 2nd of May 10am to 5pm. To book tickets click here.
The event grew in popularity with its inventive way of buying the clothes on sale. Customer's pay for the weight of the clothes rather than each item being individually priced – everything is £15 a kilo. Hence the name: Worth the Weight.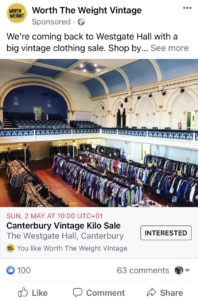 Worth the Weight is based in Sheffield but kilo sales take place all around the UK. The business was founded in 2018 as a way to fight against fast fashion.
Since then we've taken the UK by storm travelling the length and breadth of the country with tonnes of amazing vintage stock every weekend. – worththeweightvintage.com
Every piece of clothing is handpicked and graded at their base in Sheffield, Yorkshire. The stock is "Grade A stuff. 100% amazing stock, directly from the supplier, to you the consumer."
But no stock is left behind, as anything that doesn't make the grade is sent to Worth the Weight's on site sewing studio to be repaired or freshened up. Then anything that cannot be used is sent to charitable causes "nothing goes to waste."
Covid secure shopping experience
Due to the current circumstances, there will be Covid secure measures in place to ensure customers have a safe shopping experience.
The company have conducted a thorough risk assessment to keep staff and customers safe: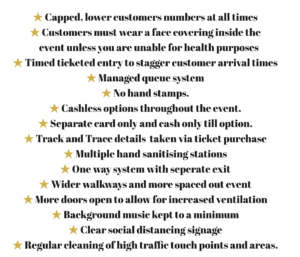 How the event works
On entry, customers are given a biodegradable bag. There are about 60 rails of stock for customers to rummage through equating to roughly nine tonnes of stock.
The clothes are split into a variety of categories including; denim, sports, ladies fashion, mens fashion, outwear and accessories.
Once customers have chosen what they want, they 'weigh and pay' at one of the 'weigh your own' stations. Customers can use this to check the cost of their bag and when they are happy, they go to the 'Pay Station.'
Worth the Weight is working hard against fast fashion and uses these events to spread awareness.
Say no to fast fashion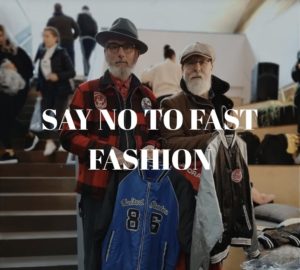 Check out some of the reasons why people loved attending the #WorthTheWeightVintage Kilo Sale at @ManCathedral 👗👕 Spoiler Alert, it wasn't just for the retro fashions! #vintage #manchester pic.twitter.com/D5BRhUuUS3

— andreathejournalist🖋️💘 (@andreathejourno) March 30, 2020
Over lockdown
Despite being in lockdown, Worth the Weight has not stopped working hard against fast fashion as they have been continuing wholesale orders. This has given an opportunity for Depopers and market traders to get vintage clothes shipped to them.
They can choose from; pay by weight, select premium job lots put together by the team, or book a handpicked appointment to the Hull warehouse.
Traders can also sign up with Worth the Weight and use the form on their website to send regular wish lists of stock they are after.