History made as army veteran completes first phase of Everest climb
An army veteran, who lost both his legs in Afghanistan, has completed the first phase of his attempt at becoming the first double, above-the-knee amputee (DAK) to climb Mount Everest. 
Hari Budha Magar, began his journey climbing the mountain on May 6.
The expedition, led by Krish Thapa, has seen the team faced dangerous weather conditions. After climbing to camp two, they returned to base camp due to high winds.
It's common among climbers to climb part way and then return to a lower base before completing the mountain – for acclimatisation and to ensure success. 
Ver esta publicación en Instagram
In a video sent from camp two, the 43-year-old said: "It's very windy here. It has been since yesterday at camp one. The route hasn't yet been opened, so we're going to stay a couple of nights here and see what's going to happen."  
Mr Thapa said: "It's very windy at night-time, the tent almost went flying a couple of times, but we managed to get a good rest." 
History has been made regardless, as Mr Magar has become the first DAK to complete one of the hardest and most dangerous sections on the Everest: the Khumbu ice fall.
He's also become the fastest DAK to climb from basecamp to Everest camp one.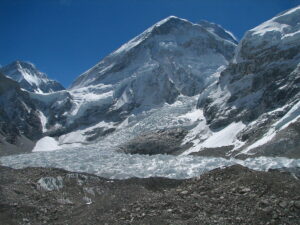 He added: "The record for a double amputee (below the knee in this case) from base camp one was 16 hours. We beat that and I'm happy with that. 
"This is the first-time a double amputee above the knee has gone through Khumbu ice fall coming up to camp two, so this is also hugely significant for me, and just an amazing experience." 
The 43-year-old and his team are currently safe and looking forward to their next climb, hoping that it will result in summiting Mount Everest and making history as the first DAK to climb the tallest mountain in the world. 
Mr Magar lost both his legs in 2010 due to an improvised explosive device (IED) during patrol in Afghanistan.
This expedition attempts to fundraise 100 times the height of Mt. Everest (£884,900) for the five charities that helped Mr Magar the most on the road to recovery. 
Feature image provided by Ryan Bowd