Ashford Model To Walk At London Fashion Week
Ashford model, Rheanna Barber is set to walk her fourth season of London Fashion Week in September.
The 17-year-old has confirmed she will be walking for the sixth season of the Fashion International show held at the Amba Hotel Charing Cross in London.
Rheanna was first scouted by show producer and creative director Geoff Cox, after modelling for a charity fashion show at Homewood School & Sixth Form Centre, Tenterden. At the age of 15, she made her debut at London Fashion Week in September 2015 and has been published on the VOGUE website three times.
In 2016 she entered Geoff's Top Model competition winning 2nd runner up of her category and after walked two more seasons for Fashion International.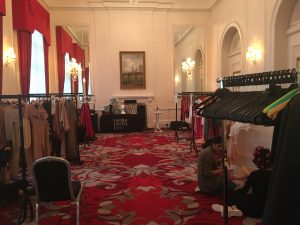 The young model said: "I'm really excited, I think it's now my fourth year running so I know what to do kind of now, just a bit of practice before hand.
When you know you're parents are watching and when you first step out, you just know that you're making them proud."
[soundcloud url="https://api.soundcloud.com/tracks/435390723″ params="color=#ff5500&auto_play=false&hide_related=false&show_comments=true&show_user=true&show_reposts=false&show_teaser=true&visual=true" width="100%" height="300″ iframe="true" /]
Rheanna's mum, Juliet Barber said: "I am so proud that my daughter was given the opportunity to walk for Fashion International in London Fashion Week. It has given her much more confidence which is really important at such a young age."
Previous designers to have showcased at the Fashion International show are Yuvna Kim, Omar Mansoor and Michaela Frankova.
Fashion International said: "Fashion International has a proven track record presenting to full houses of top quality Celebrity, VIP, Press and Industry audiences and achieved coverage in British Vogue for 100% of our designers for SS18 in 2017."