Peacocks on tour: Wild birds roam the streets of Deal during lockdown
A group of four peacocks have been spotted in numerous parts of Deal during the coronavirus pandemic.
Flouting Government rules to stay at home, the peacocks – dubbed the 'famous four' by onlookers – have been seen on Deal High Street and even front gardens.
In a Facebook page dedicated to the birds, users post their sightings of the four – in what looks like an attempt to help owners track their whereabouts.
An admin of the popular group, said: "My four-year-old grandson was in our garden when we saw them and wanted to see more pictures of them, so I set up the group to make a place safe for families."
She has since said the group has "supported people's spirits during lockdown" while being able to follow the foursome's antics.
This comes after the mischievous birds invaded Campbell's car garage, Deal, last week and have continued to bring joy to houses across the town ever since.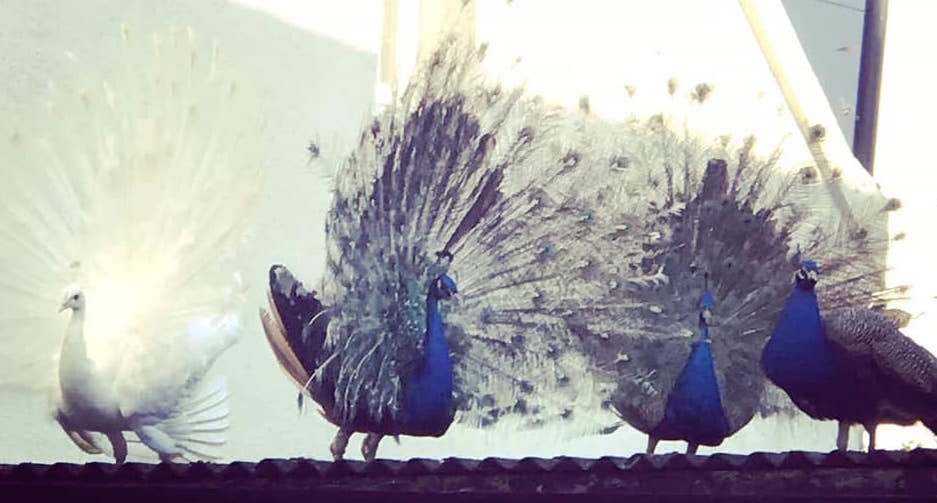 The garage owner Neil Ewbank told KentOnline: "The garage doors are up and so they just wandered in.
"They're harmless and pretty entertaining."
They have even had a police encounter on their travels, after concerns the popular party were blocking Middle Deal Road.
The peacocks were not adhering to the social distancing so were given strong words of advice by PCSO LYONS.

LYONS 0 – PEACOCKS 1 #CommunityPolicing #StayHomeSaveLives pic.twitter.com/0BxL3GP9y8

— Kent Police – Dover (@kentpolicedover) April 24, 2020
In a post on Twitter, Kent Police Dover jokingly said: "The peacocks were not adhering to the social distancing so were given strong words of advice by PCSO Lyons. LYONS 0 – PEACOCKS – 1."
They were last spotted in Ark Lane, according to a member of the group.
The colourful creatures aren't the only wild animals taking full advantage of the nationwide lockdown.
These mountain goats have been roaming the streets of Llandudno in Wales and we're here for it! As lockdowns around the world force people to stay in, wildlife has flourished. Post-pandemic recovery plans need to include environmentally positive measures. #GreenNewDeal #covid19 pic.twitter.com/uoxM0kqtIJ

— The Modern Salon (@TheModernSalon) April 27, 2020
Last month, a herd of goats had been seen running through the streets of Llandudno in Wales. Earlier this month, a flock of sheep were playing in a deserted children's playground in Monmouthshire.
Photo credit: Jatin Sindhu