Unsung Heroes: Soroptimists Achievements in Tunbridge Wells
Founded in 1946, the Tunbridge Wells Soroptimists have achievements spanning decades but last year was a particularly important year.
In 2017 they took part in a 'Toilet Twinning' scheme in which they fundraised to buy two toilets for third world countries.  These toilets are in Uganda and Malawi and they offer clean water for those in poverty.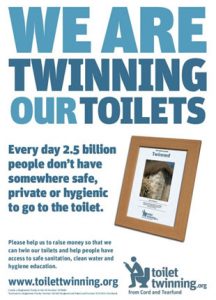 They also aim to sponsor one woman a year in projects that help to improve the lives of women and girls.  Last year they sponsored their youngest member, Charlotte Bartholomew, on her three-month project to Ghana.
Tunbridge Wells Regional Representative Caroline Auckland said:  "We sponsored 18-year-old Charlotte last year.  She had already raised money for the project so she wanted the exposure of the work she was doing in Ghana with young people, particularly talking to women about sexual issues.  She sent me reports whilst she was away explaining what she was doing, so I put them on the Facebook page and onto our website to give her a voice and visibility here.
One of the campaigns I've started is our postcard which tells you where being a Soroptimist will take you.  Charlotte had one of these and she sent me a photograph of her holding the postcard with a group of Ghanian young people so that went onto our Facebook page."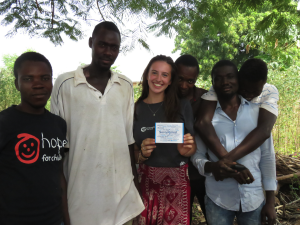 Charlotte Bartholomew said: "The Soroptimists have been so supportive and generous in helping me with my trip to Ghana. To go, I had to fundraise £1,200. I raised the bulk of this at a charity quiz night, but the Soroptimists helped a lot by sharing the link to my fundraising page, through which I received many donations contributing to the overall total at the end.
Whilst I was away, they supported me by helping me to raise awareness of the project and the work I was doing by posting and sharing regular updates that I sent to them.  In Ghana I worked with an amazing young woman called Abigail from Accra who had plans to start up her own reading and writing club for children who didn't have a suitable education.  I was so touched when I went to a Soroptimists meeting asking for donations for me to send over to her to help her out and leaving the month after with a whole car-boot full of books, pens, pencils, toys and writing materials. They even helped me pay for postage to send it over and my friend Abigail is so grateful and overwhelmed from this kindness."

The Tunbridge Wells Soroptimist's also raise money for local charities.  Last year, they worked with charities 'Fegans' and 'Chapter One'.
Caroline Auckland said:  "In March we finished working with 'Fegans' who supported families and particularly children with issues so raised £300 for them.   In April we then swapped over to our yearly charity which was 'Chapter One' which is a home in Tunbridge Wells for mostly young women.  This charity helps young women from about the age of 16 upwards – quite a lot of them are pregnant so they've left home or been forced to leave home.  We went in a couple of times to try and help them with practical things and those sessions didn't really work out so what we've decided to do is buy them things like sanitary towels, baby products, nappies and things like that instead of giving them money."
Find your local Soroptimist club:
[googlemaps https://www.google.com/maps/d/u/0/embed?mid=1YzVdJxe09tnTrRJo4rJJAgAvYmhfm6RY&w=640&h=480]