Students face a financial crisis after accommodation prices soar
Students in Canterbury are facing a financial crisis after student accommodation prices reach an all time high.
Student finance England have released a statement showing the average maintenance loan for a pupil in the UK is a measly £6000 a year.
With a 5.2% rise in accommodation costs, Canterbury has the 6th biggest increase in the whole of the United Kingdom- £3 a week higher than the UK average.
Accommodations such as 'Palamon Court' and 'Canterbury Student Manor' are offering rooms from a minimum of £155 per week.
This leaves students with nothing to spend on necessities such as food and books. With tuition fees increasing students are finding it hard to pay the bills.
Remarkable that student accomodation costs accounted for 58% of the loan in 2011, but the proportion has now risen to 73%. https://t.co/zbY2hiWXHh

— Steven Jones (@StevenJones_MCR) December 7, 2018
Emily Connell , a third year student at the Canterbury Christchurch University, has spoken out about her struggles "I think the prices are excessive, sometimes for the amount were paying I think they forget that were adults and not students in a boarding school with all the rules and regulations."
Students in the South East are not given access to location-weighed maintenance amounts that students in London receive despite facing similar costs.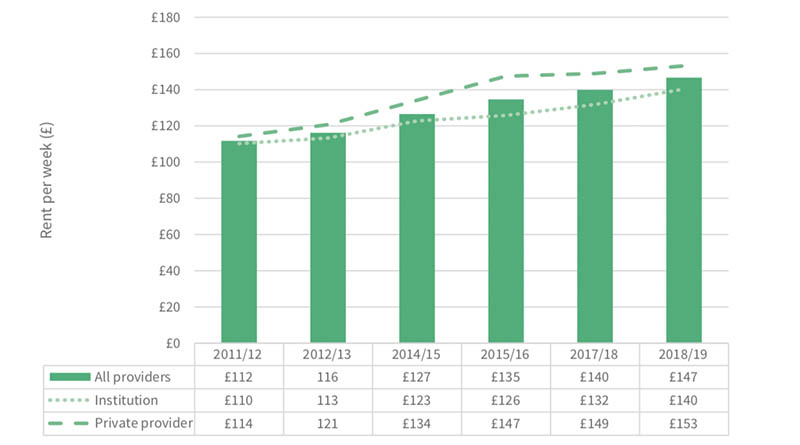 Credit: National Union of Students.
Although the costs of living have increased, many students are unsatisfied with the conditions of their accommodation with approximately 90 percent of students having to deal with issues such as damp ceilings, hot water shortages and heating issues.
"I had so many issues with my accommodation, my fire door didn't meet health and safety regulations, there wasn't even an inside lock on my door. I kept having issues with builders walking into my room without my knowledge but management didn't see the issue." Emily said.
If you are a student struggling with financial hardship visit your Universities careers advisor to find out about community funds or contact your local Council for information on grants that may be available.