Sunday Roast Comedy Club Review
Canterbury's Comedy Club returned for it's last Sunday Roast of the year with headliner act, Paul Sinha, who is best known as one of the chasers from ITV1's The Chase. 
The evening was a perfect escape from all Christmas themed events and political propaganda that has taken over our lives recently and its location at the Ballroom made for an intimate feel. 
Aligned with sofas, armchairs and benches; the amount of interest shown in the evening outweighed the number of seats available, leaving some members of the audience standing at the bar. 
But who's complaining? The night was introduced by entertainer, Adam Morrison Jones, who warmed up the crowd with his own stylistic sense of humour that foreshadowed the night ahead.
It was everything you could have expected from a classic comedy night, although less Camden style and more Canterbury tailored.
The audience were entertained by a number of aspiring local stand-ups, including some students who took the opportunity and ran with it.
I'm extremely thrilled and honoured to be on the stage with such amazing comedians, including the great Paul Sinha.
One such student was Sam Redwood, a third year history student from the University of Kent;
"I'm extremely thrilled and honoured to be on the stage with such amazing comedians, including the great Paul Sinha." He gushed.
Of course, the hook of the evening was the headline act but the audience were overwhelmed by the raw talent that emitted from the stage and the new comedic material that the audience were hit with from these budding stand-ups.
"The audience was absolutely brilliant and I can't thank the Sunday Roast team for letting me be a part of their event and I'm sure they've got so much more to offer in the new year!" he added.
But now on to the headline act, Paul Sinha, otherwise known as 'The Sinnerman'. Many would never have guessed his hidden love was stand up comedy. His style and delivery complimented each other well, there were times where the audience were left asking themselves 'Should I really be laughing at that?' as a streak of dark humour was let out into the crowd.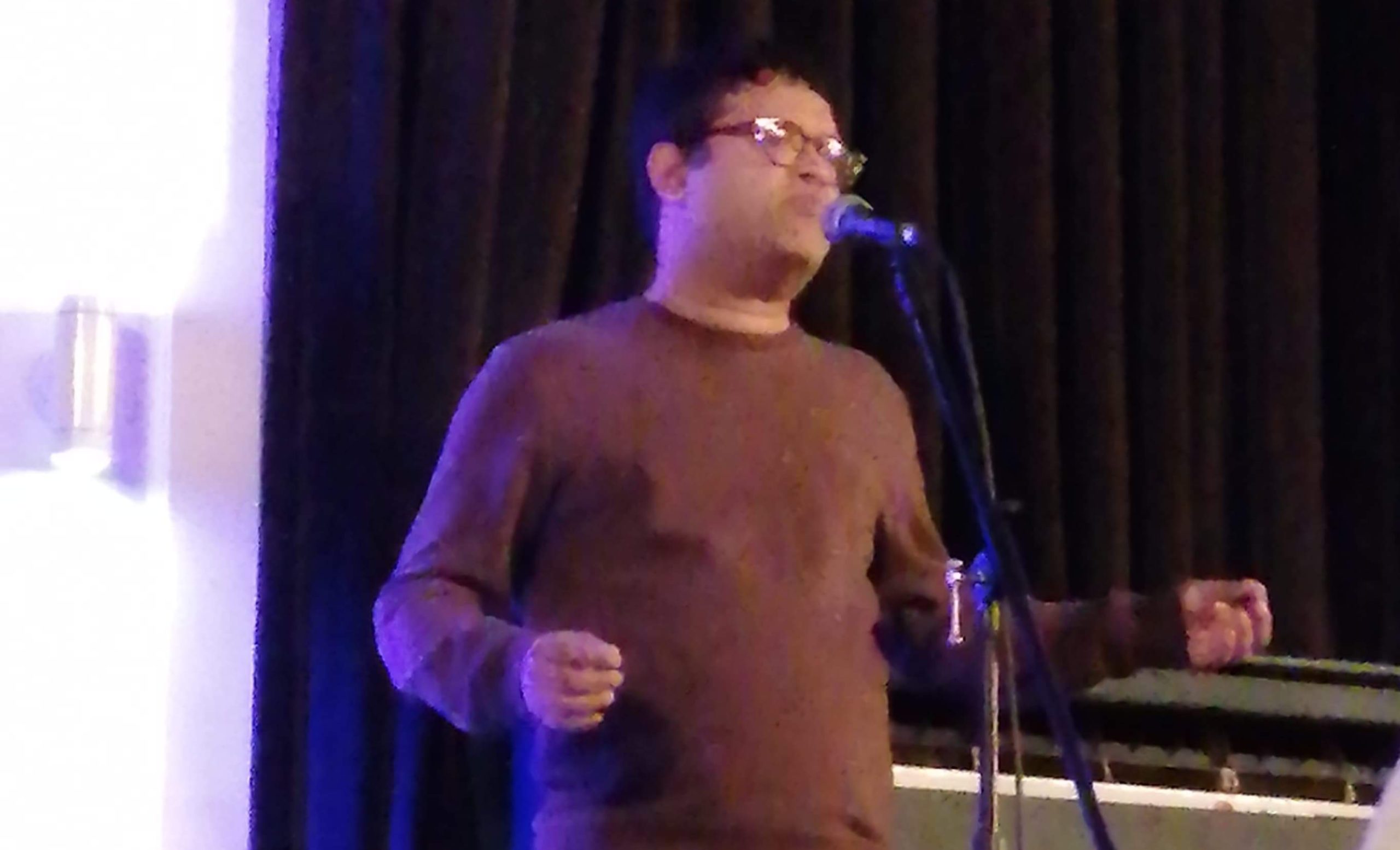 Sinha mocked himself and some of the issues he has faced in his personal life like the homophobic remarks that he has dealt with and his Parkinsons diagnosis, and all I can say is that Sinha is my new comedy hero.
And if his hidden stand-up talent wasn't enough, towards the end of his gig, he began playing the keyboard. Other than that, it was clear that the audience were tickled by the stories he shared of other celebrity encounters in addition to the rest of his performance.
It was a truly successful night that left guests stumbling home with huge grins on their faces and everyone was in agreement that there definitely needs to be more Sunday Roasts!