Lost monkey who captured the hearts of Canterbury residents goes viral
A post went viral on the Canterbury Residents Group on Facebook featuring a very lost monkey plush toy wrapped up in blankets, gathering over 3,300 likes on the local community group.
In the post Rachel Holloway, who found the precious teddy, said she found the monkey along the river walk by toddlers cove park.
"He was a little muddy and very wet from the rain, but don't worry, monkey has had a nice warm bath and a cup of hot chocolate".
Rachel says "it's been quite the journey" and that "we're very happy that monkey is on his way home".
"My daughter and I had just finished feeding the ducks, we walked along the river on our way when I noticed a very sad, and muddy, monkey sitting in a tree. There were no kids in the park so I decided to take him home and spruce him up a bit".
Rachel didn't expect Monkey to be found "because Canterbury is such a small place".
"I was worried that maybe it was the toy of a visitor from another country, but luckily the interaction with the post got the news of his whereabouts to his rightful owner" 
Who is the rightful owner of Canterbury's beloved monkey?
Thanks to the post going viral the owner, who is local toddler Amalia and mother Gabriella Le Breton, was found relatively quickly.
Gabriella says "my little daughter, Amalia, has basically not gone to sleep or stayed asleep since we lost monkey lask week".
Little Amalia went off to sleep in minutes after being reunited with Canterbury's new celebrity.
Gabriella and Amalia first realized monkey was missing during Sunday bathtime when the 14 month year old made her noise for monkey and was "pretty cut up when he wasn't waiting in bed for her".
Gabriella quickly posted an update on the resident Facebook group showing the reunity of their toddler and her teddy, posting that "I know a lot of you are invested in Monkey and his adventures with the lovely Rachel Holloway so I wanted to give you an update on his day".
They were reunited in Dane John Gardens where Rachel got to meet little Amalia.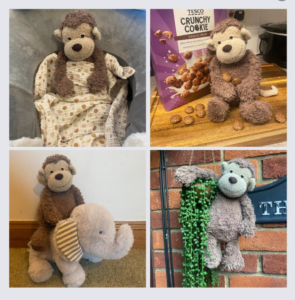 He then took a look at Canterbury from the top of the Mount before heading home to Wye to get ready for bedtime, and his favourite book, with Amalia. They're now both fast asleep, cuddling tightly". – Amalias mother
How did the Residents of Canterbury React?
It's fair to say that residents and members of the local Facebook group were in awe at Ms. Holloways updates with one resident commenting "I know this sounds so daft but this brought a tear to my eye this morning reading this".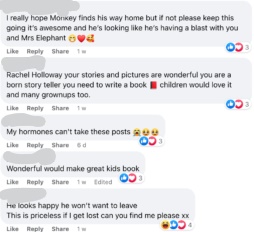 Others found the updates humoring with another resident saying "Is it wrong of me to half hope monkey's owner isn't found? Or at least if they are that we continue to hear the adventures of monkey".
"Thank you to everyone who took the time to share and engage with the post, without your help this busy little monkey might not have made it home". Wrote Ms. Holloway in her final post about the journeys of Canterbury's beloved monkey.