A look inside this year's Canterbury Christmas markets
I went to the Canterbury Christmas markets which seem to have almost doubled in size with a variety of festive merchandise on offer compared with previous years. The markets are almost divided into different sections this year.
Signposts point you in your favourable destinations, this offers some structure to the sometimes chaotic feel of Christmas Markets.
The Canterbury Christmas Markets are running across the entirety of the Whitefriars area of Canterbury, it trails around almost in a circle so mindless easy browsing can be on the agenda.
As you approach the middle of the market you are soon greeted by the rather vocal reindeer bar, where the singing reindeer heads entertain both children and parents while able to wind down and enjoy some mulled wine or seasonal ales.
You are greeted with an ensemble of festive music while inhaling the smell of fresh food and mulled wine.
The reindeer bar offers Baileys hot chocolate, mulled wine and a drink I hadn't heard of named 'Snowball' which I found out was a mixture of Advocaat and lemonade, which I would've been intrigued to try if it wasn't lunchtime.
Although this was not stopping many shoppers today.
I went for the hot chocolate instead which I was looking forward to, finished with whipped cream and chocolate dusting, it looked the part. The taste wasn't quite as expected, the consistency was a little watery, though the reindeer bar was certainly not your only option when it comes to food and drink options across the market.
The food on offer ranges from a full Mexican meal to a sweet treat to finish the afternoon off.
Spoilt for choice when shopping for Christmas gifts, with people selling everything from leather goods to humorous 'meme' style signs and aprons and even a whole stall selling incredible wood sculptures.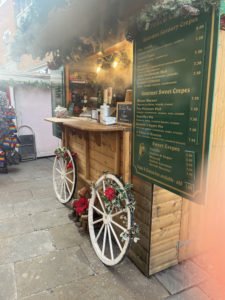 I couldn't help but notice the tempting smell coming from the French Crepe stall which always seems to have a hefty queue.
Overall the Canterbury Christmas markets is a busy and quite hectic outing, with it being packed with people shopping and enjoying the festivities.  It's much larger and more well mapped out Christmas market experience than usual.
Although during rush hour it may still be hard to navigate at times.
The selection of homemade crafts, presents, festive food and drink available,  gives the markets a unique feel and from the inside it's evident each stall has a different feel as you make your way around.
I have to give Canterbury Christmas markets credit for a wonderful festive day out for all and the expansion market this year makes the experience that extra bit more enjoyable.