Explained: What does Canterbury's scooter trial involve?
As residents raise concerns over Canterbury's new scooter trial, it raises the question of what the initiative hopes to achieve.
Why was the trial introduced?
The 12-month trial first came about as a way to encourage residents to be less reliant on cars, and to help to cut congestion and harmful emissions.
Kent County Council and Canterbury City Council teamed up with Bird to solve the 'last mile problem', where journeys may be too long to walk, yet too short for a car to be justifiable.
Bird operates on a global scale in almost 100 cities, and they aim for this environmentally friendly trial to open people's eyes to the advantages of the scooters as permanent additions to our day-to-day lives.
The scheme is intended to encourage people to get out, while also remaining safe and socially distanced from others.
How does it work?
The process of renting the scooters is incredibly easy, as you just have to follow these steps as instructed on the Bird website…

A scooter costs £1 to hire, then 25p for every minute it gets used.
Why is the trial being carried out in Canterbury?
When the trial initially started in November, the scooters were only available to students from the University of Kent and Canterbury Christ Church University.
As Canterbury hosts almost 40,000 students, it is the ideal place for the trial to be carried out. It intends to effectively assist students in an environmentally friendly way as they have to travel between campuses.
Due to a large amount of success, the trial has now been extended into its second phase, as of 29 March, and the scooters can be rented by any eligible residents.
The trial zone conveniently covers both Canterbury stations, as well as the hospital – which is perfect, as Bird has offered free rides for NHS staff.
Harry Porter, who works in EMEA Communications for Bird, said "Canterbury was one of the places to put their hands in the air and say that they wanted to trial the scooters to see if it would help.
"I think one of the reasons why Canterbury was interesting to us was because there's a lot of people who travel in and out. There's a couple of big stations, so if someone's going up to London every day for work, the scooters give people a way to access the train stations without the need for a car."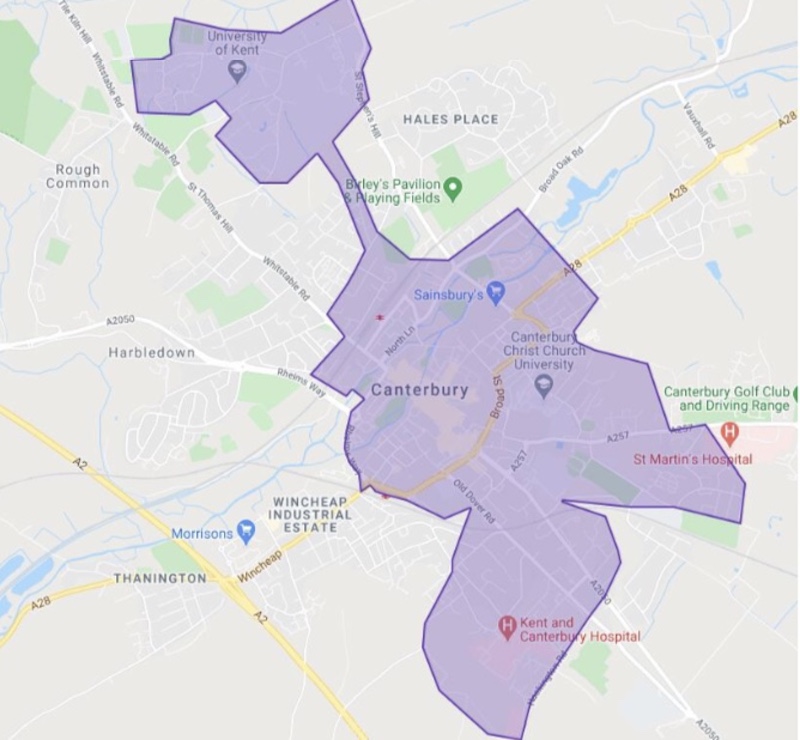 And what have they put in place to ensure that the scooters are as safe as possible?
Both the council and Bird claim that safety is one of their main priorities, and they have put a number of policies in place to ensure that the trial has a positive outcome.
Resident Dave Hanna said: "The official e-scooter trial is GPS controlled and at the moment they are consigned to a set route which prohibits them from running in areas that are restricted to vehicular traffic."
The ability to track them means that Bird is able to ensure that they are being used in a responsible manner.
Anyone who rents a scooter is required to have either a provisional or full drivers' license, as you need to enter the details via the app before you can ride. As well as this, you have to be over 18.
The scooters are a great tool to encourage social distancing – they are sanitised frequently, and help people to avoid the mostly busy transport alternatives.
To keep control of the scooters themselves, they are programmed to power down if they cross the boundary of their permitted route, outside of the trial area. There is in-app as well as in-person safety training, and Bird plan to host safe riding events where they will give away free helmets to riders.
Featured image credit: Unsplash
Will you be trying out the scooters?
Featured image credit: Unsplash