Coronavirus: One year on from lockdown
Transport yourself back to this time last year.  
On the 23rd of March 2020, Boris Johnson announced the UK would go into lockdown. Little did we know, a year later we would still be in a lockdown.  
Please join me for an important update on #coronavirus #StayHomeSaveLives pic.twitter.com/QSlIOIaYsF

— Boris Johnson (@BorisJohnson) March 23, 2020
In this overview, we look back on the past year in a pandemic…  
Cases
: 
The first confirmed case of Coronavirus in the UK was on the 29th of January 2020. This came after two Chinese nationals from the same family who were staying at a hotel in York fell ill.  
Since then, there have been over 4.3 million cases in the UK and over 129 million cases across the world.  
Campaigning
:
The government worked hard to spread awareness of the virus. Creating catchy slogans in the process.  
Stay at home. Protect the NHS. Save lives. pic.twitter.com/PUN79POzAw

— Boris Johnson (@BorisJohnson) January 4, 2021
Stay at home, protect the NHS, save lives.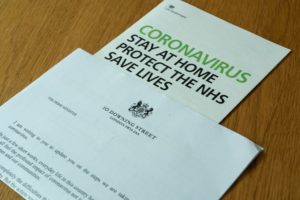 Stay at home, control the virus, save lives.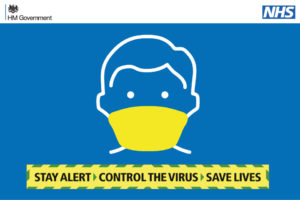 Hands, face, space. A catchy list to remind people to wash their hands, cover their face with a face mask and keep a safe distance away from others.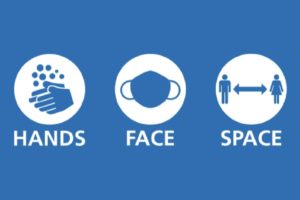 Now an advert has been created to remind people that the virus is still out there, and we should continue to be mindful. 
Credit: The Telegraph
Daily briefings
:
As well as campaigning ways for people to stay safe, the government kept us updated with daily briefings, beginning in mid-March and lasting until the 23rd of June.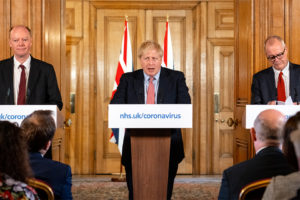 These daily briefings are now a distant memory and we now only hear from the government when changes on rules are being announced.  
Working from home
:
With only essential shops staying open, the new way of getting to work for many people was opening their laptops and joining a zoom call.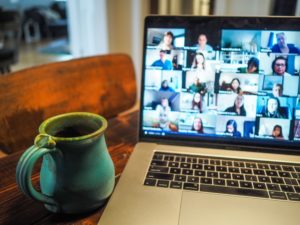 There's a psychology behind going to a workplace and associating this with working. As humans, we need a work, life balance. So, this brought a lot of confusion to people now having to work an office job from their kitchen.  
The same goes for schools. Never before have so many parents probably wanted the "holidays" to end. Most children found it extremely difficult. It's not only difficult for children to concentrate, but they are lacking an essential part of their education – socialisation.  
"You're on mute" has got to be the catchphrase of 2020. A year of zoom meetings where the WiFi has not always adhered.  
Business
:
Streets became silent, cities lost their buzz and the world seemed quiet.  
This past year has taught us anything can happen. While the world is our oyster, it's also filled with uncertainty.  
When we went into the first national lockdown on the 23rd of March, all non-essential shops, restaurants and leisure had to close.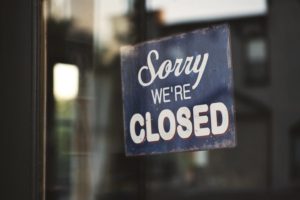 The government introduced a furlough scheme, so employees were still having some money come in each month. They also offered grants which businesses could apply for. Overall, the government appreciated how businesses and employees would suffer and delivered solutions.  
After almost three months off, businesses were back up and running. Restaurants, cafes, leisure, and non-essential shops re-opened and the world was a little more normal. We were all advised to wash our hands regularly, sanitise and keep two meters apart. 
Sitting in a restaurant is a distant memory for a lot of us. When restaurants and cafes re-opened in June, people had to wear a mask upon entry but could remove it when they sat down. It then became mandatory for staff to wear face masks,  unless they were exempt.  
The warm weather drew people out of their homes and with the summer holidays looming, it seemed like a step in the right direction to make up for the lost time. 
Then, the eat out to help out scheme was introduced in a bid to get businesses back on track. Customers could save 50% on their bills when eating in restaurants and cafes. A perfect probe to get people back out and about.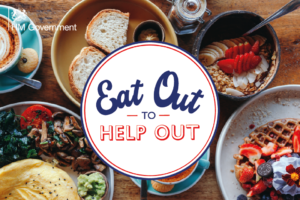 For famous franchise Weatherspoons, the scheme certainly did its job as their customers loved the idea of a full English breakfast for under three pounds. 
The scheme ended at the end of August, but some restaurants decided to extend it after it became so popular with diners. 
It wasn't long until non-essential shops, leisure and hospitality had to close again in November due to the number of cases rising. But takeaways and fast-food deliveries were permitted. 
Supporting small businesses:
The pandemic has meant 2020 has been all about supporting small businesses and shopping locally. 
We saw several retailers' go into administration due to the pandemics. For example, the Arcadia group who own Topshop, Dorothy Perkins, and Burton, had their day in late November.  
Clap for ca
rers:
Starting on the 26th of March 2020, every Thursday evening at 8 pm the nation united and honoured the NHS staff.  
Credit: The Telegraph
The final clap for carers was on the 28th of May 2020.  
Vaccines
:
After several long months of developing a vaccine, here in the UK, the first person received a covid vaccine on the 8th of December 2020. Not long after this, the Astra Zeneca vaccine was also in the UK.  
As of today, 27,630,970 people in the UK have received their first vaccine and 2,228,772 have received their second.  
Yesterday was a record-breaking day for the vaccine rollout, with 873,784 people receiving a jab.

A huge thank you to everyone involved and please come forward to get your jab when you are invited to do so.

— Boris Johnson (@BorisJohnson) March 21, 2021
Social Media:
Technology and social media have aided our boredom in lockdown. One social media platform has really taken the world by storm. TikTok made its debut in the UK in September 2017 but it was summer 2020 where it really flourished. 
Something surprising about TikTok is the variety of people that use it. Teachers to nurses, university students to tradesmen. People were using TikTok to document their lockdown lives and educate others.  
Dr. Alex George is a doctor who appeared on Love Island. He uses TikTok as a platform to educate people fun medical facts and information about their mental health.  
Creating a strong platform online has helped him become the newly appointed Young Mental Health Ambassador.
Thank you everyone for your kindness. I am overwhelmed by the support. Very emotional today, hope I can do my brother proud 💙 https://t.co/DwQ7EHc60E

— Dr Alex (@DrAlexGeorge) February 3, 2021
Raising money for charity
:
Captain Sir Tom Moore was a war hero who made history in lockdown. At the age of 99, in the run up to his 100th birthday, he set himself a lockdown challenge. He wanted to walk 100 lengths of his garden to raise £1,000 by his 100th birthday. Captain Tom took the UK by storm and managed to raise over £30 million for NHS Charities Together.  
Credit: Captain Tom Moore
He received an immense amount of well-deserved recognition for his efforts and was knighted by the Queen in July.  
Captain Tom died on the 2nd of February 2021 after being treated for pneumonia. He is an inspiring example of someone who made the best of a bad situation.  
Sport:
It's been a year like no other for sport. Most sporting events were postponed. 
The 2021 Tissot UCI Track Cycling Nations' Cup in Newport, which was due to take place from 22-25 April 2021, has been cancelled: https://t.co/rIVXBXtbX4 #ukcyclechat pic.twitter.com/WyiSrn5naL

— UKSportsChat (@_UKSportsChat) March 14, 2021
But slowly but surely – sport is making its comeback.  
Stadiums that were once full to bursting with fans are now empty. To reduce the spread of the virus, only players are allowed in and fans had to make do with watching on television from their living room.   
Travel:
A holiday has been off everyone's calendar for what seems like forever. 
 When we first went into lockdown we were told to not travel unless we absolutely had to. 
For example, when returning from anywhere outside the UK, travelers would have to self–isolate for 14 days.  
The isolation period was reduced to ten days in early December.  
Now, the government has a full list of regularly updated information on traveling. 
Click here to see the latest travel information on the government website. 
Check before you travel has never been so important. Everywhere in the world has detailed instructions on travel.  
In regards to public transport, face masks must be worn at all times and you must sit a safe distance away from others.  
What's next?
Finally, one year on, it's looking like we are on the road back to normal. With vaccines being distributed rapidly, testing becoming more available and R numbers dropping – the end is hopefully near.  
Boris Johnson released a roadmap out of lockdown stating that, hopefully, by the 21st of June, all businesses will be open, as well as education open and operating well.  
Looking back over lockdown, we will never forget 2020 as a year. It has been full of ups and downs, but we have also learned a lot. Here's to the next year.