Everything You Need To Know About Canterbury's Ice Rink
This Christmas Canterbury will be running their first ever Ice Rink! Read below to find out more.
Location
The 20x30m ice rink in Canterbury; along with a viewing area, refreshments, toilets, and a toddler play area, will be in the bandstand area in Dane John Gardens. For those that don't know the area very well, the official address is Watling St, Canterbury CT1 1YW.
[googlemaps https://www.google.com/maps/embed?pb=!1m18!1m12!1m3!1d2495.947860056852!2d1.076036215311624!3d51.27527883546996!2m3!1f0!2f0!3f0!3m2!1i1024!2i768!4f13.1!3m3!1m2!1s0x47decbcbc5e785bf%3A0xbc1e839b93cc3a57!2sDane+John+Gardens!5e0!3m2!1sen!2suk!4v1512726432957&w=600&h=450]
When is it here?
There have been several delays in getting some equipment on site and a bit of confusion with publicity.  The ice rink has now been confirmed to open on December 11th, 11am to 6pm, Sundays to Fridays, and 11am to 7pm on Saturdays. There will be shorter hours on Christmas eve, and the rink will be closed on Christmas Day and Boxing Day.
To make up for lost time, the rink will open for an extra week, closing on January 7th instead of New Years Day.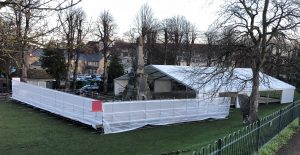 Prices
Tickets are very well priced, starting at £5 for children and £7.50 for adults for a 40-minute session. Booking details have not been released yet, for more information keep an eye on the Canterbury on Ice and the Noah and the Shed Facebook pages
Other information
The Ice Rink is not a Canterbury City Council event. It is run by a private company called Noah in the Shed, the council is supporting it by allowing them to use Dane John Gardens.
Leader of Canterbury City Council, Cllr Simon Cook, said: "We are very excited to be bringing a Christmas ice rink to Canterbury for the first time. It's something lots of people have been asking for and will really enhance the festive atmosphere in the city. We expect the demand to be high, so people will need to get in quick when booking opens."
There have been some issues with publicity after the Canterbury on Ice website was released prematurely, it suggested that the Ice Rink was not opening until January but bookings could be made – none of this was true.
IMPORTANT: We have been made aware the operator's website for booking tickets for the Canterbury ice rink appears to be live. We are told this is an error. Please do not book tickets until we post an update saying the site is ready. pic.twitter.com/Vgz8KLWNog

— Canterbury City Council (@canterburycc) December 4, 2017
Noah and the Shed have been approached for comment.