General Election: Reactions to Rosie Duffield retaining Labour seat
The Conservatives have won their biggest majority in over 30 years, in a disastrous night for Jeremy Corbyn and the Labour party. 
Leader of the Labour party, Jeremy Corbyn, has already said he will not lead his party into another election.
It's not all bad for the Labour though. Rosie Duffield retained her seat in Canterbury with a 1,800 majority.
Locals have mixed opinions on the results, with some people happy that Duffield kept her seat.
Massive congratulations on a superb result. One of few beacons of hope (@RosieDuffield1 holding Canterbury for Labour another) in a depressing GE. https://t.co/ULAfGCX98L

— Jane Hardy (@janeeliothardy) December 13, 2019
I'm delighted Rosie Duffield held onto her Labour seat in Canterbury. An amazing achievement against such odds. Proof that a decent candidate can win people over and local politics do matter.

— David Hewson (@david_hewson) December 13, 2019
The victory of Rosie Duffield in Canterbury with significantly increased majority, shows the way forward for Labour. We need inspirational leadership, empathetic to aspiration & hope, not quite so rosey for Boris when he receives celebratory gift of chlorinated chicken from Trump

— Michael Desmond (@dezairedale) December 13, 2019
But some people are not so happy, and were hopeful that Anna Firth would paint Canterbury blue again.
I am so sad Anna Firth did not win. The hardest working and one of the nicest candidates that I have ever worked with.
Canterbury has missed out on somebody who would have been a fantastic MP. @anna_firth https://t.co/PQEeRoVROo

— John Davey (@CllrJohnDavey) December 13, 2019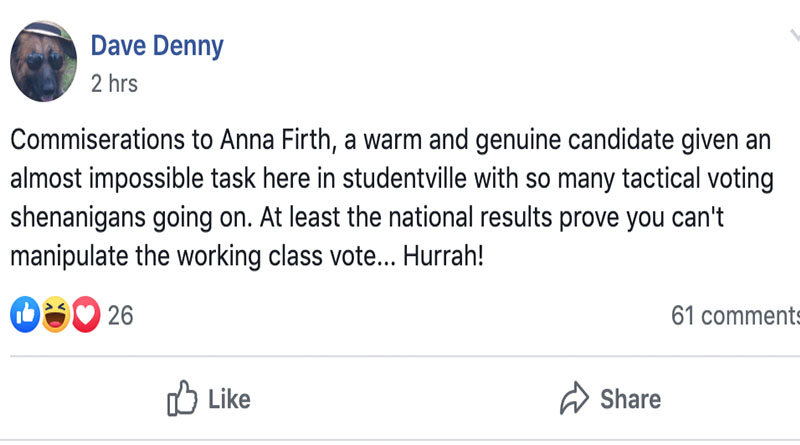 I am so sad Anna Firth did not win. The hardest working and one of the nicest candidates that I have ever worked with.
Canterbury has missed out on somebody who would have been a fantastic MP. @anna_firth https://t.co/PQEeRoVROo

— John Davey (@CllrJohnDavey) December 13, 2019
Watch the live video of Canterbury City Council finding out Rosie's victory: