Julia James: New image released of PCSO in clothes she was last wearing
Kent Police have released a new image of Julia James in the latest development of the investigation.
In a press conference held by Chief Constable Tom Richards he revealed the latest updates on the murder inquiry;
Julia James was at home alone the day she died
Kent Police are hoping image "sparks someone's memory"
Locals have provided over 700 pieces of information
Kent Police will now be going door-to-door in Ayelsham and Snowdown to give witnesses a chance to come forward
Chief Constable says investigation is progressing and confident in catching the killer
Police have dedicated their most experienced specialist teams to the case
Mrs James is pictured with her Jack Russell, Toby, in the clothes she was last wearing. Police are hoping that the new image will help identify her as they continue to appeal for witnesses. They are keeping all options open in their murder inquiry.
Kent Police's Chief Constable, Tom Richards, said: "We're hoping that this image of Julia wearing what she wore before her death will help jog people's memory.
"We want to hear from people who think they saw her walking Toby on that day and we also want to speak to people who were in the area that afternoon. Perhaps you were going for a run, walking your own dog, driving through or farming your land.
"We want to hear from anyone who was in the area or who saw Julia. Any and all information is welcomed and our detectives will decide what is relevant to their investigation."
The PCSO was killed last week while out walking her dog in Akholt Wood near her home in Snowdown. It was confirmed that she had sustained blunt trauma to the head.
Yesterday police carried out road checks in the area to appeal to any witnesses who may not have come forward.
Last night locals lit candles and placed them on their doorsteps in memory of Julia James with the hashtag 'JusticeforJulia' on social media. Mrs James' daughter, Bethan Coles, said that the candles were the perfect "nod" to her mother.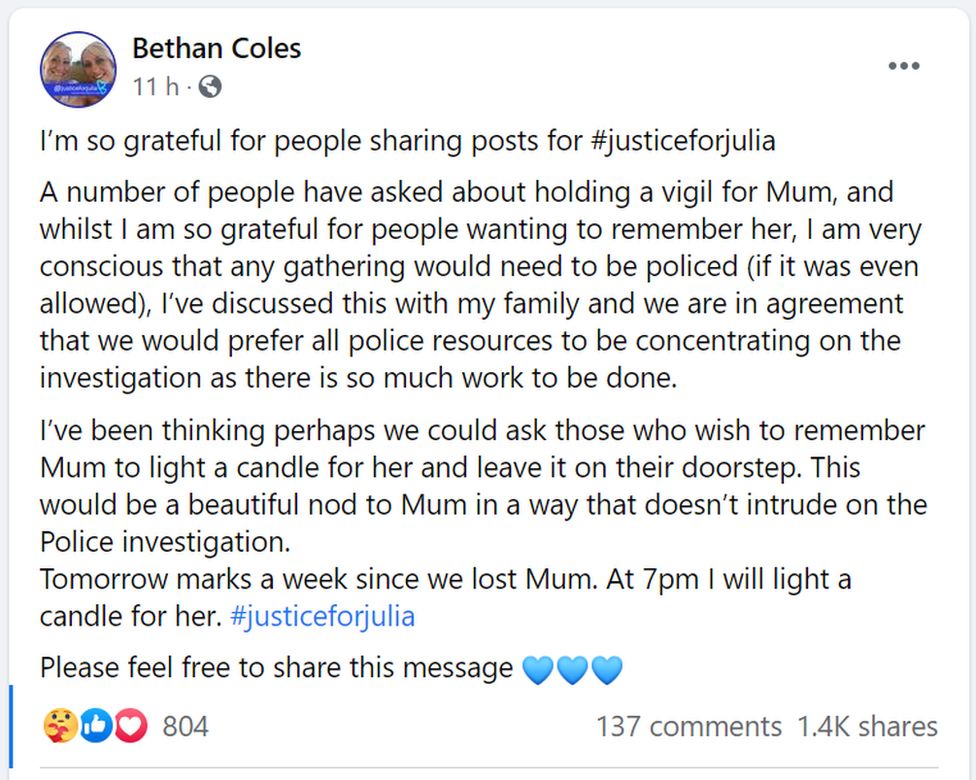 Kent Police are still appealing for witnesses who may have information that can help their investigation.
This is a breaking story.