Kent's summer events damned by Covid-19 insurance
The cancellation of Brighton Pride has come as a shock to many even though the UK government has suggested that by June 21 social contact will not be restricted.
Earlier this week, in a statement, the organisers of Brighton Pride stated that there were still "uncertainties that needed to be resolved to safely deliver mass gatherings" – mainly surrounding to Covid-19 insurance.
Summer months in Canterbury are usually bursting with different events – like Pride Canterbury. In 2019, Pride Canterbury welcomed over 21,000 individual visitors to the high street. Over the last 5 years events in Canterbury have attracted over 285,000 visitors to the city.

Edd Withers was the organiser of Pride Canterbury until 2019 and he is now the CEO of Kent Pride.
Speaking to The Canterbury Hub, Edd told us why he chose to postpone Kent Pride's first event and why many other event organisers may do the same.
Kent Pride was founded in January of this year, and they anticipated to hold their first event this year.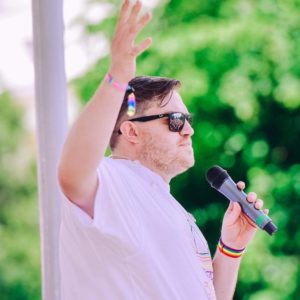 However Edd explained that a combination of the lack of insurance, and hesitant attendees they were ultimately forced to cancel the event. "We are fortunate that as a brand new event, a decision like that is much less painful."
"Essentially, there is a big difference between what is permitted, and what is feasible", he said.
"Financial issues are often central to many decisions – but it's a fact that from fencing to toilets, from security to entertainment, these events cost a fortune and often many of the costs are covered by on-the-day income so if there is a risk that income is not going to be on the level needed to cover the costs, then that risk may put the organisation in financial jeopardy."
Not only is the lack of cancellation insurance a huge issue, Edd told us that attendee anxiety is something that organisers have to pay close mind to.
"Although right now the 'roadmap' says to us that the event can happen, there are still uncertainties, such as limits on capacity. If insurance would cover a Covid related cancellation (and currently it wouldn't) and attendee anxiety. If 20% of people decide to give it a miss this year, that is 20% less footfall, then 20% less income".
This puts event organisers in a situation where they have to decide whether the financial risk of running an event this year may become their last.
"For many, I think the answer is sensibly, but sadly, no. Event organisers are being put in an incredibly difficult position right now."
Edd went on to say that the fact that cancelled events last year meant that income required to fund events is already stretched as it is.
"A lot of organisations have fixed costs they have to cover even outside of event time. Many of those would have used up reserves from 2019, to cover 2020 and 2021." There are recovery funds and grants available for charities and organisations but these "won't cover everything, and there is a lot of competition for limited pots of cash".
Despite this, the Kent County Show still aims to go ahead this year, albeit a scaled back version.
However, renowned Canadian singer Michael Buble has also cancelled his performance this summer at the Kent Cricket Club's Spitfire Ground. Buble has rescheduled for 2022 and said that the ongoing situation with Covid-19 was to blame.