Large explosion rocks neighbourhood in Ashford
A huge blast has shocked a residential area in Willesborough, near Ashford, at around 8am this morning.
Multiple residents reported the house explosion on Mill View, off of Osbourne Road, that has left seven people injured.
Kent Fire and Rescue services are working to extinguish any remaining signs of the fire, with seven fire engines, Kent Police, the Hazardous area response team and the air ambulance all dispatched to the scene.
A video showing the aftermath of the large explosion. Credit: Dan Churchley
The South East Coast Ambulance Service confirmed that two casualties have been taken to a London Hospital with serious injuries. Five other people were treated locally with injuries described as less than serious.
We are currently working alongside colleagues from @kentfirerescue and @SECAmbulance after being called to a report of an explosion in Mill View, Willesborough, #Ashford at 7.57am today. Officers are working to establish if anyone is unaccounted for. Please avoid the area.

— Kent Police (UK) (@kent_police) May 4, 2021
Officers are advising local residents to avoid the area and keep their windows closed.
'Roads are closed until further notice and surrounding homes have been evacuated.'
Fire Crews from @kentfirerescue @kentfirerescue @NPASSouthEast @SECAmbulance remain at the scene of a suspect Gas Blast in Ashford in Kent pic.twitter.com/ZXKEUACAdh

— UK News in Pictures (@UKNIP247) (@uknip247) May 4, 2021
https://twitter.com/tlc_moo12/status/1389497735317962753?s=20
@Lord_Willesboro on Twitter told the Canterbury Hub that 'there was nothing left of the house apart from the chimney stack, and severe damage to neighbouring properties.
'Roads are closed until further notice and surrounding homes have been evacuated.'
'The place is a couple of hundred metres away but it felt like one of the kids had pulled the shelves down.'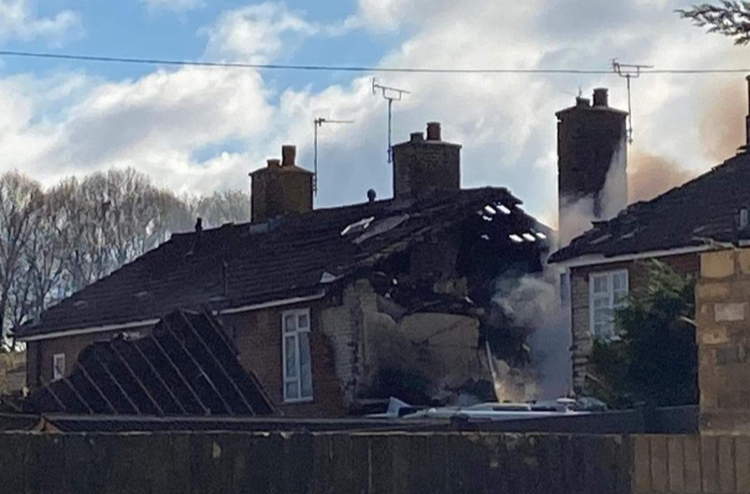 The area has now been cordoned off with emergency services at the scene. This is the view from Osbourne Road. #ashford pic.twitter.com/QyOEXbzA62

— Chantal Weller (@chantal_weller) May 4, 2021
Images from the scene this morning. Credit: Chantal Weller
The police confirmed in a press release that all residents had now been accounted for, after a number of people had to be rescued from the rubble caused by the blast.
The cause of the explosion has not been identified, but at this stage police are not treating it as suspicious.
Kent County Council announced it had set up a 'reception centre' to support those affected, with The Salvation Army also setting up a centre in the local village hall to offer support.