'May the fourth be with you': 5 ways you can celebrate Star Wars Day
Tomorrow is May 4th, also known as Star Wars Day.
(The date was chosen because 'May the fourth' sounds like 'May the force be with you', but if you're reading this article, you probably already knew that!)
Here's some of the best ways you can mark the occasion:
Watch Disney Gallery: The Book of Boba Fett on Disney+
Disney+ are releasing the newest instalment in the series tomorrow – what better way to celebrate than with a new release? The series is already on Disney+ in its entirety, but this new episode will give the hard-core fans amongst us some extra details.
Not much has been said about what the Disney Gallery release will contain, but if the Mandalorian's Gallery episode was anything to go by, we'll be getting a deep dive into the production of the series.
According to whatsondisneyplus.com, a popular blog for new releases, the episode "explores the behind-the-scenes story of the legendary bounty hunter's return to Tatooine with mercenary Fennec Shand, seeking to claim the territory once run by Jabba the Hutt", as "filmmakers, cast and crew reveal never-before-seen footage, groundbreaking technology and the practical effects that brought it all to life".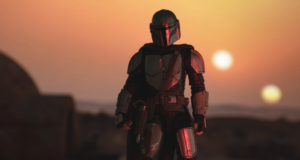 Watch a Trilogy
As it's a bit optimistic to try and watch all of the films in one day, perhaps try and give three a go. Watch your favourite of the trilogies, or maybe try one you've not seen in a while.
Fans have disagreed over which of the three trilogies should be classed as the 'best'… what do you think? Vote below:
Dress up and stage a photoshoot
If you're that way inclined, why not get in costume and live your best Star Wars life? Here's some great looks that other fans have posted on social media:
View this post on Instagram
View this post on Instagram
View this post on Instagram
Do some Star Wars-inspired baking
If you're a baking fan, took it up in lockdown, or just fancy giving it a go tomorrow, check out some treats others have whipped up in the past…
View this post on Instagram
View this post on Instagram
Hear C-3PO read a Star Wars story on YouTube
Who said only little ones can enjoy having a story read to them? Listen to C-3PO actor Anthony Daniels reading from "Star Wars: Galactic Adventures Storybook Collection" on Disney's YouTube channel here:
Why not see how many from the list you can do? Imagine getting home from work and spending the evening dressed in costume, watching your favourite film, and eating Star Wars cake – sounds like a pretty good Star Wars Day!
Got an idea for celebrating Star Wars Day that isn't listed here? Let us know.
For more of The Canterbury Hub's lifestyle articles, click here.
Featured Image:  Agnieszka Kowalczyk on Unsplash