Miracle at 88-years-old – Coronavirus patient discharged from hospital
An 88-year-old woman from Dartford has defied the odds by beating the coronavirus in just six-weeks.
The patient, named by Darent Valley Hospital as Mrs Britton, spent almost six weeks with the respiratory team, where she underwent CPAP (Continuous positive airway pressure) therapy which is a very intensive treatment to restore oxygen levels.
Mrs Britton's story has been told by Sharon Chattenton a Senior Sister at the Kent hospital. She said: "During the pandemic, I deployed back to respiratory care from my normal job as this was my former area of specialism.
"I then moved to Beech ward to support the step down of acute respiratory patients, who are still recovering.
"Throughout my re-deployment, I had the pleasure of caring for Mrs Britton during her acute phase of illness right through to her discharge home."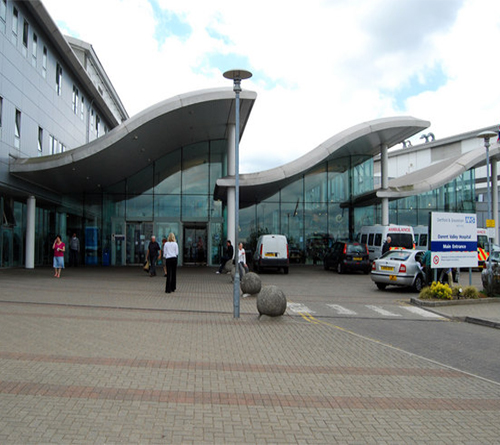 Once well enough, Mrs Britton transferred to Beech ward to recover and build her physical strength with our multidisciplinary team in preparation for returning home.
Chattenton added: "Throughout her care, Mrs Britton maintained a wonderful sense of humour and made a huge impression on every doctor, nurse, health care assistant, physiotherapist, pharmacist and occupational therapist that had the pleasure of meeting her.
"All of the staff are very aware that this extended time away from family is immensely challenging for our patients. Despite this, Mrs Britton met every challenge with true fortitude and regaled us with stories and jokes that have certainly filled shifts with laughter.
"Both teams would like to wish Mrs Britton a safe, speedy recovery. We will always think fondly of this lovely lady."
The current figures show that there are more than 150,000 confirmed cases of Covid-19 in the UK and over 20,000 people have died from the virus.
The latest government statistics show that there are over 3,000 confirmed cases of Coronavirus throughout Kent and Medway.
Prime Minister Boris Johnson spoke earlier today in a press conference and praised the British public for adhering to the social distancing measures.
Johnson is also confident the UK has taken the right steps to defeat the virus. But hinted at another 12 weeks of social distancing.
He said: "I think, looking at it all, that we can turn the tide within the next 12 weeks and I'm absolutely confident that we can send coronavirus packing in this country."
Watch the Prime Ministers full press conference below: