People told only to use 999 in an emergency
Members of the public are being urged to use the alternative emergency phone number 111 if the incident is not life-threatning, by the South East Coast Ambulance Service (SECAmb).
In the past two weeks SECAmb has received around 36,000 999 calls and calls passed from NHS 111.
They are now reaching out to the public to get a better understanding of when to call or not call 999.
NHS England is encouraging people to make full use of all the available NHS services as it will help ease the pressure on the 999 service and, in turn, the wider health system as activity rises towards Christmas and the new year.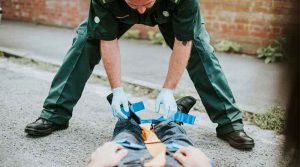 With winter approaching Regional Operations Manager Andy Cashman has highlighted the importance of other alternatives to an unnecessary 999 call.
He said: "We're asking that when it's not an emergency that people have considered all other services available to them.
"This might be by calling NHS 111, which can offer health advice and also direct callers to the appropriate service, or speaking to a GP or pharmacist.
"When someone is facing a serious or life-threatening emergency, they shouldn't hesitate in calling 999."
https://www.youtube.com/watch?v=mx-0_XsvI_k
The NHS 111 service is free of charge and is available 24 hours a day, 365 days a year. An NHS spokesperson said: "The service aims to make it easier for people to access healthcare services when they need medical help fast, but not in a life-threatening situation."
With temperatures starting to drop the ambulance services are preparing for a busy winter.
There are ways you can keep warm this winter
For more information visit the South East Coast Ambulance Service website.