Popular snowdog trail raises over £140,000
The Ashford Snowdog trail reached its climax this week, with over £140,000 raised at auction for The Pilgrim's Hospice.
The trail had 35 artistic dogs spread across the town for ten weeks, with the money from each design going to the charity.
It took just three hours for the dogs to find new owners at the International Hotel gala.
Organiser Chris Dixon believed both the trail and the auction were a huge success.
He said: "I'm absolutely delighted, you're never too sure what's going to happen on the night, but £142,000 has definitely exceeded all expectations.
"The economic impact that it's had on the town centre, the people falling in love with the dogs, and the steps in the health and wellbeing agenda that was part of the project, it went above and beyond on every level."
He continued: "This has been in our minds for a few years, but we were trying to wait until the right time.
"The reason we picked this year was because there is so much regeneration happening with the town. There was a real opportunity to highlight some of the amazing things that are happening in 2018 for Ashford."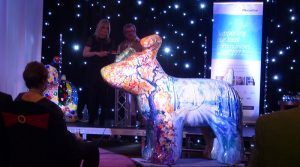 Inspired by the popular film, The Snowman and the Snowdog, the trail celebrated themes including love, life and kindness, as it finished its 10-week journey in November.
Hosted by TV personalities Michael Hogben and Alison Chapman, they helped the felines sell for impressive figures, including the £15,000 that was received for Doodle Dog.
The creator of the highest selling dog of the gala, Sam Cox believed the trail was inspiring for residents.
He said: "I am thrilled. I think that the whole life of this project has been so good from start to finish, from myself and other's having so much fun making our dogs, to the town enjoying seeing them within different parts of Ashford.
"I do hope that more projects like this happen in the future because I think this was good for the whole community.
Lois Cordelia was one of the stars of the event, the live painting demonstration of her two dogs proving another hit with the audience.
She said: "It's really important to me to paint live in public, as it helps people to relate to the artwork they are bidding for and understand something of the passion that goes into it, so it meant a lot to me to be allowed to do this on behalf of Pilgrims Hospices."