Great talent and comedy at university's Come Dance With Me fundraiser
On Friday night, I attended the Student Union where CCCU's very own Dance and Football team hosted a Come Dance With Me fundraiser event to raise money for Mind Charity.
The sports teams at the university came together to put on performances, displaying great talent and comedy.
Throughout the past few weeks, the teams had to undergo intense dance lessons, practicing their skills alongside their assigned choreographers.
Bailey Stephenson, President of CCSU Athletics expressed his thoughts to me.
"The night was amazing, a good atmosphere, entertaining performance and £314 was raise for charity. So proud of Athletics for coming first in this charity event."
Athletics came first with their dance to a twist on Nicki Minaj's "Freaky girl" and Mariah Carey's "All I want for Christmas is you".
Credit: Matt Holmes
As much as I understood it as a competition, every sing team captured laughters from the audience and I found myself thoroughly entertained all throughout the night.
Chloe, 20, is part of CCSU Netball.
"Overall it was a great experience, definitely stressful at times during the dance lessons but it was all worth it in the end for charity"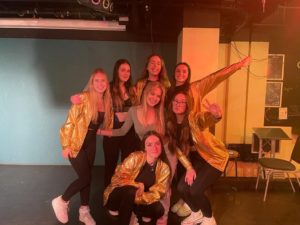 Credit: Matt Holmes
The event started at 19:00 and ran through until 22:00, nonetheless providing us with an entertaining night, definitely one of the major highlights of the first semester.