Scoliosis survivor calls for more awareness
A Kent woman who had scoliosis surgery has suggested the UK should screen young children for the condition.
Phoebe Grace, from Shadoxhurst in Kent was diagnosed with Scoliosis, an 's' or 'c' shaped curvature of the spine, at the age of 15. After having major spinal surgery she is now calling for more awareness of the condition.
The cause of Scoliosis can vary and is largely unknown, but is screened for in some parts of the USA using the Adam's Forward Bend Test. This test looks for ridged humps or abnormalities in the shoulders and back which would suggest a curvature of the spine.
The 20-year-old who underwent a spinal fusion operation in 2015 has since managed to become a fitness model and body-builder. Now, she is calling for the UK to follow America in screening children for signs of scoliosis.
My Mum spotted it early."
She said that children should be screened in this country, so that "earlier detection can be made."
Phoebe also said her outcome was first detected before being formally diagnosed with the condition, saying: "My Mum spotted it early".
After being diagnosed with a curvature of the spine, Phoebe had to wear a brace for a year and had surgery six months later. She says that the UK should monitor children for signs of scoliosis in children so that more sufferers can receive early intervention and help.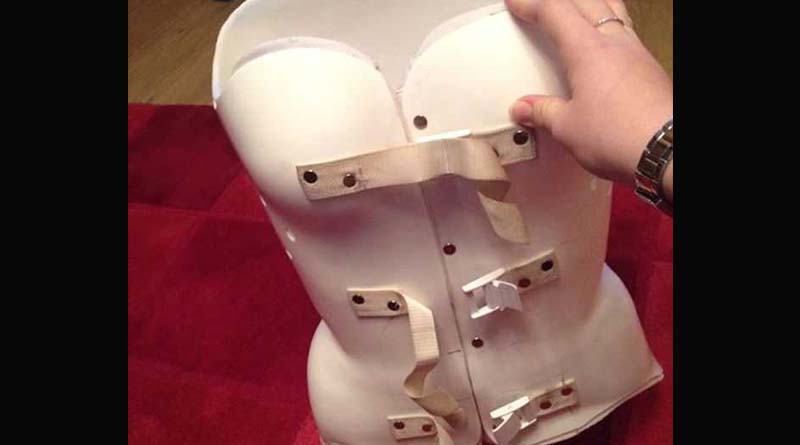 According to the NHS website, scoliosis can affect people of any age but is most prevalent in children aged 10 to 15 and the Scoliosis Association UK website states: "3 to 4 children per 1000 need specialist supervision."
During the period of 'observation' by doctors, her spinal curves increased dramatically from 20 degrees to 60 during a year and a half, causing her a lot of pain. She said: "I saw an osteopath to try to release the muscles and all the pain I had."
The surgery was very tough, as with any surgery, but I'm better now for it."
After the operation she progressed quickly, walking just nineteen hours after the surgery, climbing stairs three days later and swimming after six weeks. She now is a weight lifter and body-builder.
https://www.instagram.com/p/Bqh8koIgfR6/?utm_source=ig_share_sheet&igshid=n6foazyxuwoy
Phoebe is also a qualified personal trainer, who also gives advice to others with scoliosis.
She said: "The surgery was very tough, as with any surgery, but I'm better now for it."
She firmly believes that surgery was the best option for her but urges others who think they have the condition to seek medical opinion so that they too can become aware and get the help they need.