Hythe's Bell Pub causes outrage over refusing to serve under 21s
A local pub in Hythe has caused outrage amongst some local residents, after refusing to serve under 21s past 5pm.
The Bell pub in Hythe, announced via a Facebook post on Sunday morning, that they had made the 'difficult decision' to stop serving under 21 year old customers past 5pm, due to a number of incidents involving 'multiple covid breaches' and aggressive behaviour.
Whilst many have welcomed the pubs move, others have now hit out, as a stem of angry comments questioning the decision soon emerged on the pubs Facebook page.


The Canterbury Hub spoke with one local resident, 21-year-old Harry Williams, who said:
"You get idiots from all ages groups, but you can't just ban everyone. Otherwise you'll go bust."
Following on from this outrage, the Bell are still holding strong with their stance. Posting a second announcement via their Facebook page, to reiterate that that this is a 'temporary policy' and that they will be 'reviewing it constantly'.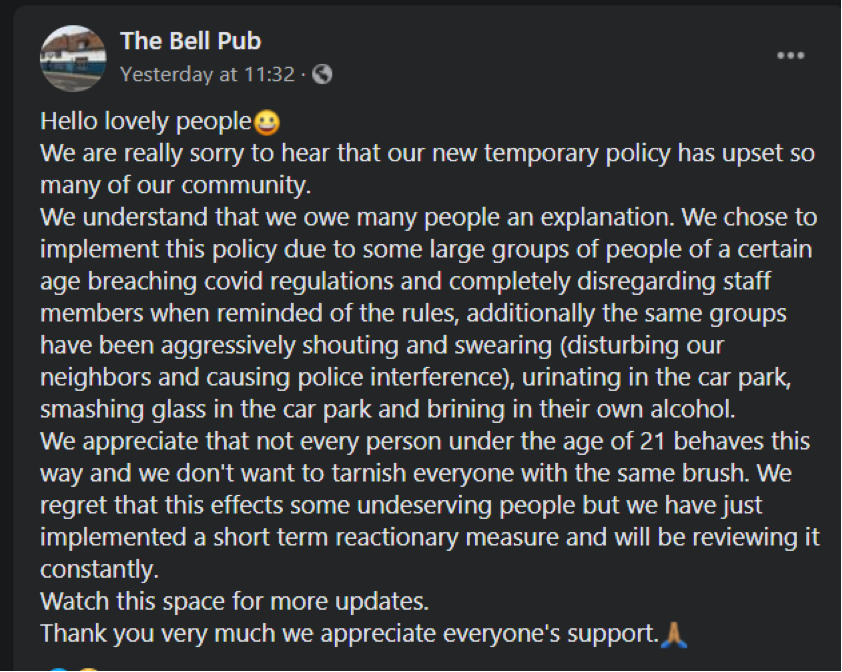 For many though, like local resident Niall Wheeler, the measures have already put them off returning:
"I think it's completely ridiculous that you penalise an entire age group for the actions of a few individuals, it's wrong and I know that I won't be returning even when they do decide to serve us again."
Despite this backlash, other local pubs are supporting The Bell's choice. With some choosing to follow suit and enforce their own rules on stopping serving u21s. You can read more on this here: Pubs in Hythe and Folkestone have decided to stop serving under 21s. 
Source: Google Maps