All you need to know about holiday rights during the pandemic
Refunds, credit notes, insurance and more.
The Covid-19 Pandemic has flipped our lives upside down. With over 150,000 tragic deaths and 2.5 million confirmed cases, it is a crisis that is affecting so many lives.
Not only this, but it has made us house bound and destroyed all hope in a sociable and fun filled summer of plans. With most people having holidays booked and various plans in place, this may have left you feeling not only disappointed but unsure as to where you stand when it comes to getting a refund.
Various holiday companies have policies in place entitling you to a credit note before a refund.
Confused? So is everyone.
Here are the answers to all your burning questions:
How has travel been disrupted?
The Foreign and Commonwealth Office (FCO) issues advice on travelling overseas and now specifically during the coronavirus pandemic. With the FCO now advising all but essential travel worldwide for an indefinite period.
Nobody will be going on holidays in the near future or even travelling for work purposes.
It has also been advised for any British travellers still abroad to attempt to arrange plans to return home as soon as possible.
Many Brits with holidays booked might be wondering if their travel insurance covers them for their lost holidays. So, it does vary between insurance companies, however if you booked travel insurance before 15th March 2020 and the policy has been amended, you remain covered. Any holiday insurance purchased after this date will not cover corona related cancellations of your trip.
I've booked a trip… am I entitled to a refund?
There have been many complaints that airlines and holiday companies are offering vouchers rather than full refunds.
However, if your flight is cancelled you are entitled to a full refund within seven days, if it is a package holiday your refund should be processed within fourteen days.
What is the deal with re-booking?
Companies including TUI and First Choice are giving customers credit notes, as soon as you receive the credit note you are entitled to ring up and either choose to rebook or claim your refund. First Choice and TUI are even offering a 20% incentive to rebook. For example, if you holiday costs £2,000 you will now have £2,400 to spend on a new holiday of your choice.
If you choose to rebook a package holiday, your refund credit will carry the same ATOL protection as your original booking. The separate booking incentive isn't financially protected but you can have full financial confidence in your original sum of money.
Are you struggling to get a refund for a cancelled holiday or flight?

If yes, tell us about your experience using #RefundPassengers.

— Which? (@WhichUK) April 22, 2020
If I've paid a deposit for my holiday but haven't yet paid for the whole holiday, will I lose my deposit?
Many people will have paid a small deposit towards their holiday yet your balance pending must be paid soon.
If you choose to pay in full, you can only hope that things will have changed by the time you travel. However, if you pay in full you will have to wait for the holiday company to cancel the holiday until you are entitled to the refund.
If you choose not to pay as you don't feel the holiday will go ahead, you will simply lose the deposit. This is due to the fact that you are breaking the terms of the holiday contract. Despite this, some holiday companies might be offering credit notes as an alternative to a loss of deposit, creating the incentive and hope that you will re-book.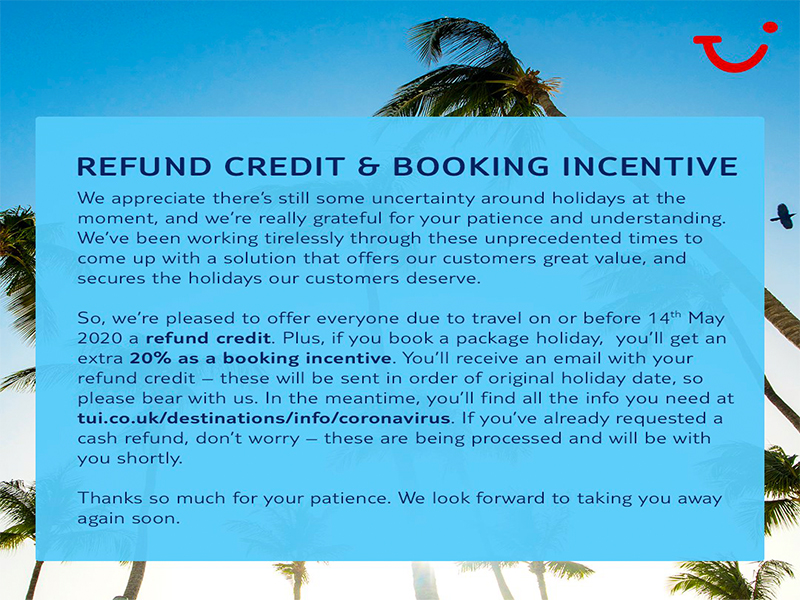 I've booked a holiday in the UK. Will I still be going?
Any holiday within the UK is also likely to be cancelled with hotels, B&B's and holiday destination parks including Centre Parcs all now being closed.
Trains and bus companies are running a reduced service but for those going into work, not for leisure travel purposes.
Just like if you were going abroad,  if you had booked a holiday within the UK you are entitled to a full refund. Companies including Centre Parcs and Haven holidays have already started processing refunds for trips that will no longer go ahead. Despite this, depending on who you had booked with times in getting a refund may vary due to the amount of people waiting for a refund.